Editors jsou zpět! Britská alternativní kapela v těchto dnech dokončuje skladby na nové album, jehož vydání je ohlášeno na podzim 2015. V říjnu vyrazí na koncertní pódia a po dvou letech se vrátí do Prahy. Ve středu 9. prosince vystoupí v pražském klubu Roxy.
Když jeden z příznivců Editors objevil nový track No Harm schovaný na aktuální kompilaci Play It Again Sam a sdílel ho se světem, měli fanoušci možnost uslyšet první ochutnávku z nového alba. Editors si pro nahrávání vybrali studio umístěné na odlehlé skotské vrchovině a poprvé si desku sami produkují za asistence Alana Mouldera, který se stará o mix. Skladba No Harm je aktuálně k dispozici zdarma ke stažení na kapelním webu www.editorsofficial.com.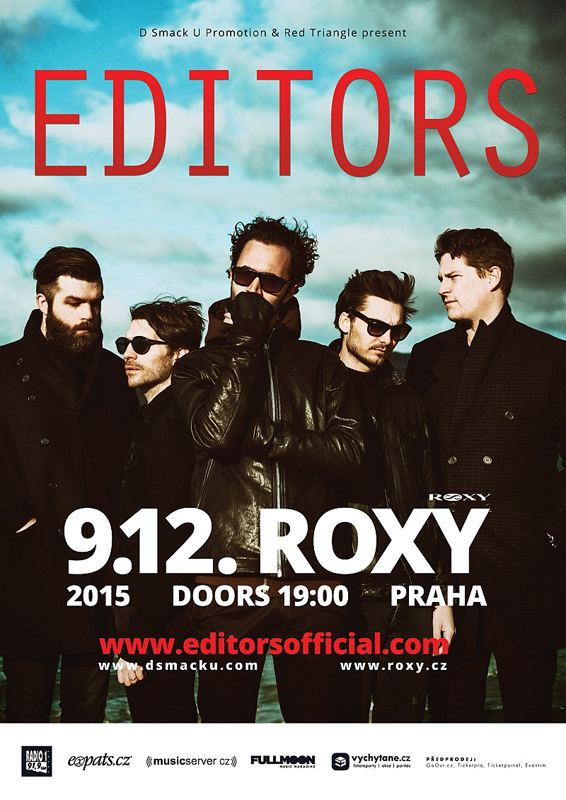 Poslední album The Weight Of Your Love (2013) představuje důležitý milník v úspěšné desetileté kariéře anglické skupiny. Dosáhlo na Top 10 v hitparádách po celé Evropě včetně prvních míst v Holandsku a Belgii a čtyř po sobě jdoucích umístěních v britské Top 10. Nahrávka zajistila kapele hlavní časy na prestižních evropských festivalech a více jak stovku vystoupení na čtyřech kontinentech včetně prvního koncertu v Africe.
Deska The Weight Of Your Love následovala úspěšná alba An End Has A Start (2007) a In This Light And On This Evening (2009), která se obě umístila na čele britského žebříčku. Debutové nahrávky Editors The Back Room (2005) se dodnes prodalo přes 2 miliony kopií.
Vstupenky za 720,- Kč + poplatky koupíte v sítích GoOut.cz, Tickepro, Ticketportal, Eventim a na webu klubu Roxy. Předprodej startuje ve čtvrtek 30. 4. Na místě v den koncertu za 850,- Kč.
ZDROJ: TZ Roxy