Norská rocková kapela Kvelertak vydala v květnu své nové album s názvem Nattesferd, které přijedou představit 19. listopadu do pražského Lucerna Music Baru. Vstupenky za 290 Kč + poplatky jsou k zakoupení na pokladně Lucerna Music Baru (bez poplatků), na www.musicbar.cz, GoOut.cz a v sítích Ticketpro a Ticketportal. Na místě v den koncertu za 390 Kč.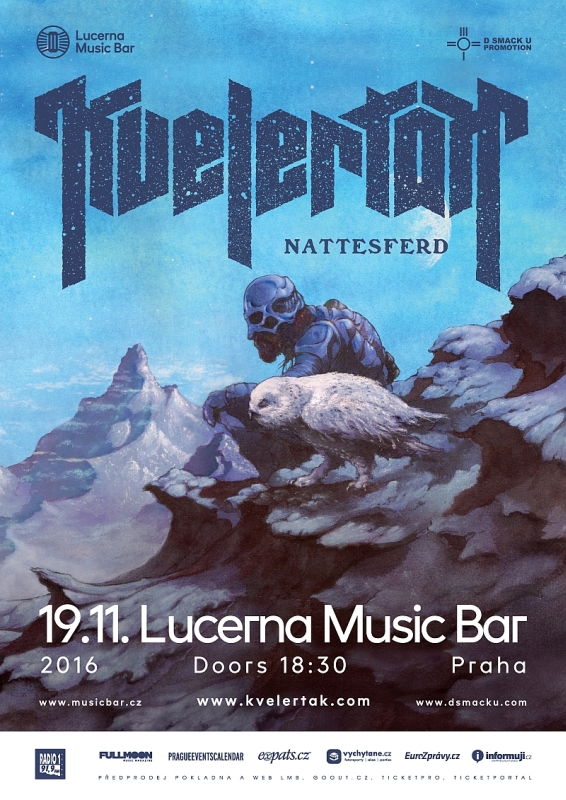 Představte si tohle: pekelnický lyrický kaleidoskop norské mytologie, okultní lidové vyprávěnky a satanské vesmírné Vikingy doprovázené blackmetalem poháněnými punkovými a rock and rollovými hymnami. Mohl by to být televizní horor po půlnoci, ale je to třetí studiové album kapely Kvelertak nazvané Nattesferd a jeho devět písniček. Mistrovství hudebně nečekaného spojilo tenhle norský sextet jako cementem – Erlend Hjelvik (zpěv), Bjarte Lund Rolland (kytara), Vidar Landa (kytara, klavír), Maciek Ofstad (kytara, zpěv), Marvin Nygaard (basová kytara) a Kjetil Gjermundrød (bicí) tvoří jeden z nejoceňovanějších hudebních spolků tvrdé muziky současnosti.
Rolling Stone umístil jejich druhé album Meir na #2 ve své hitparádě 20 Best Metal Albums of 2013 a jmenoval Nattesferd jedním z 25 nejočekávanějších metalových alb roku 2016. Pitchfork, Spin, The Quietus, Decibel, BBC Music a další média pěla na kapelu ódy. Kvelertak předskakovali v Norsku Foo Fighters, mezi jejich fanoušky patří Metallica a hráli se všemi esy metalu, včetně Slayer, Mastodon, Gojiry a Anthrax. A novinka Nattesferd je představuje v plné polní!
Po koncertním maratonu k albu Meir v roce 2015 kapela začala skládat písničky na novou desku. Začátkem roku 2016 již nahrávali v Amper Tone Studiu v Oslu s producentem Nickem Terrym (The Libertines, Turbonegro). Výsledkem jsou jejich dosud nejvýbušnější skladby zpívané v rodné norštině!
Prvním singlem je skladba 1985 s riffem, který boří zdi, a řevem, který suť z nich zadupe do země. Název Nattesferd v překladu znamená Noční putování. Hielvik říká: "Myslím, že to celkem dobře popisuje všechny skladby vcelku. Deska je taková pouť a texty jsou pěkně temné, takže to funguje. A taky mi to připomíná nejlepší desku Rush – Fly By Night—Noční let!"
ZDROJ: TZ Lucerna music bar