Nenechte si ujít výjimečný podzimní koncert VŠETKO NAJLEPŠIE TOUR 2015! Bratislavská skupina HEX má za sebou náročné koncertní léto. Hudebníci odehráli velké množství koncertů a už se vrhají do další práce. Pro fanoušky připravili podzimní koncertní turné. Po relativně dlouhé době se představí i v České republice.
"Sami jsme zvědaví, co z toho vyjde. Právě začínáme společně nacvičovat úplně nový program na slovenské akustické turné. ČR jsme se ale rozhodli, ukázat a připomenout v tvrdé elektrické podobě a zavzpomínat na festivalové léto. Minulý rok mělo turné obrovský úspěch, bylo vyprodané a doufám, že tento rok to bude podobné a podaří se nám to i v Praze a v Brně." Usmívá se frontman kapely Tomáš "Yxo" Dohňanský.

HEXáci si na turné berou trička, CD a výběrové album ve tvaru knihy VŠETKO NAJLEPŠIE 1992-2013. Na výběrovce se nachází i skladba "Keď jsme sami", která byla jednou z nejhranějších slovenských skladem roku.
"Vloni se nám osvědčilo, že jsme vždy po koncertech podepisovali knížky. I teď po koncertě se s námi fanoušci můžou potkat, popovídat, vyfotit. Cokoliv, co budou chtít, jim splníme, pokud nám to dovolí zdraví," uzavírá Martin "Fefe" Žúži.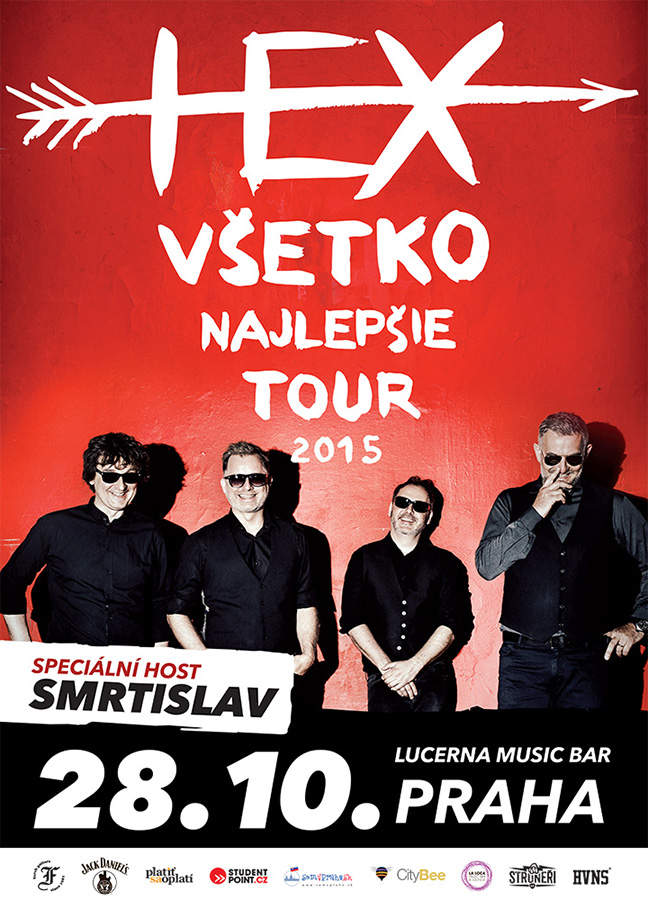 Skupina HEX vznikla v roce 1989 a patří k nejúspěšnějším slovenským kapelám. Hraje ve složení Peter "Duďo" Dudák – zpěv, kytara, klávesy, Martin "Fefe" Zúži – kytara, Tomáš "Yxo" Dohňanský – basová kytara a Tibor "Tybyke" Szabados – bicí. Hity "Keď jsme sami", "Maťo a Linda", "V piatok podvečer či "Nikdy nebolo lepšie" zlidověli a zpívají si jich fanoušci vícero generací. Nenechte si ujít unikátní VŠETKO NAJLEPŠIE TOUR 2015. Vstupenky jsou dostupné v předprodejích a v místních pokladnách.
Jako speciální host se představí ambiciózní hudební skupina SMRTISLAV soustředěná kolem excentrického zpěváka Tuzexe, který vešel ve známost hlavně hraním v kapelách Sunshine, Vanessa nebo Scissorhands. V kapele dále působí také zkušení hudebníci Jakub Zachoval na kytaru (LUS3), Michal Mach na bicí (City Lights) a Tomáš Jungvirt (Landmine Spring) na basu. SMRTISLAV si hned od počátku své existence získal řadu fanoušků svým originálním rockovým zvukem a překvapivě českými texty s ponurejší náladou. Na jaře 2015 vydala skupina čtyřpísňové EP podpořené videoklipem k písni V noci se mi zdálo
ZDROJ: Lucerna Music Bar