Symphonic-metalová Epica, sextet vedený jedinečnou zpěvačkou Simone Simons, se vydává do EXIT Universe. Za sebou mají osm studiových alb, z nichž polovina se dostala do první desítky nejprodávanějších v Nizozemsku a jejich desky "Requiem for the Indifferent" (2012) a "The Quantum Enigma" (2014) dosáhly do americké hitparády Billboard Top 200. V roce 2015 také obdrželi Music Export Award jako nejúspěšnější mezinárodně ceněná nizozemská kapela. Na hlavním pódiu se k nim připojí bělehradská thrashmetalová kapela Jenner, jejíž album "To Live is to Suffer" vydané francouzským vydavatelstvím Infernö Records získalo kladná hodnocení po celém světě.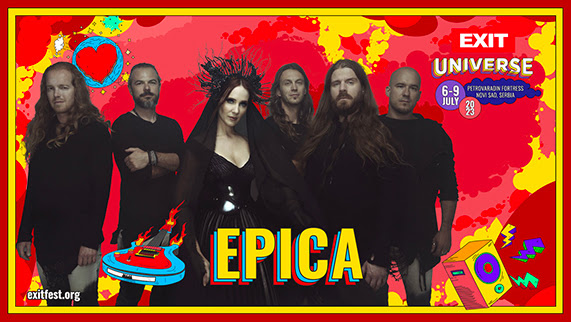 Na kultovní Explosive stage, kytarové scéně festivalu EXIT, vystoupí 23 nejžhavějších hardcorových, metalových a punkových kapel z různých koutů světa. Poprvé v Srbsku vystoupí legendární kanadská kapela Exciter, průkopníci speed metalu s téměř půlstoletou hudební kariérou, a američtí Massacre, jejichž debutové album "From Beyond" definovalo a nasměrovalo death metal jako žánr. K nim se připojí brazilští NervoChaos, kteří ohlásili své nadcházející jedenácté studiové album "Chthonic Wrath", dále mexická metalová kapela Armada, italští Violentor a dánská hardcore punková kapela Night Fever.
Silnému regionálnímu programu vévodí mezinárodně uznávaná bělehradská speed/thrash metalová kapela Bombarder, kultovní bulharská kapela Hyperborea, slovinští punkeři Hak Attak a metalisté Sarcasm, chorvatští Flesh a Dead Dog Summer, hardcore čtveřice Urban Instinkt z Bosny a Hercegoviny a punkrockový kvintet Punkreas z Černé Hory.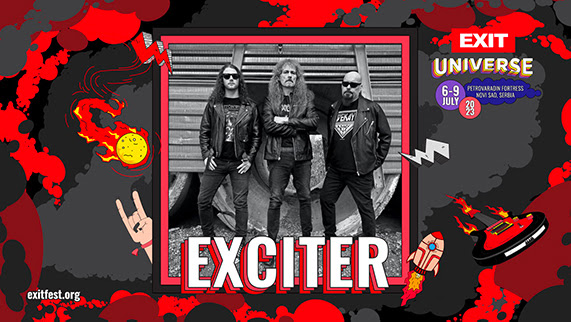 Kromě kytarového a dravého undergroundu v čele s Viagra Boys, Epicou, Cockney Rejects, The Toasters, Jenner, Wolfbrigade, Exciter, Massacre, Suzi Moon a mnoha dalšími se v rámci multižánrového zážitku EXIT festivalu představí také nejvlivnější elektro-punková kapela všech dob The Prodigy a hiphopoví bohové Wu-Tang Clan, několikanásobný držitel ceny Grammy Skrillex, Alesso, Dimitri Vegas & Like Mike, Sofi Tukker, Claptone, Chase & Status, stejně jako nejvyhledávanější interpreti elektronické hudební scény, kolektiv Keinemusik, duo CamelPhat, Indira Paganotto, Hot Since 82, LF System, Vintage Culture a mnoho dalších.