Pro Portico byl rok 2014 zlomový. Poté, co kapelu opustil Keir Vine, se rozhodla trojice Bellamy, Fitzpatrick a Wyllie změnit název z Portico Quartet na Portico. Téměř vzápětí oznámili podpis smlouvy s labelem Ninja Tune a novou desku Living Fields, která vyjde 6. dubna. Jen o měsíc později 5. května přivezou Portico nové album do pražského Lucerna Music Baru. Jako host s nimi vystoupí britský zpěvák Jono McCleery.
Jako Portico Quartet ve složení Wyllie, Bellamy, Fitzpatrick a Mulvey debutovali v roce 2007 albem Knee- Deep In The North Sea a hned si vysloužili nominaci na prestižní Mercury Music Prize. Ale časy se mění, obzvlášť když jste tak mladí, jako byli tehdy oni. Wyllie, Bellamy a Fitzpatrick zjistili na začátku roku 2013, že už nejsou spokojení s muzikou, kterou dělají a že už není co dále objevovat. Nastal čas na změnu.
Living Fields je první album obrozených Portico a jestli vám lidé, kteří za ním stojí, přijdou povědomí, v muzice moc společných jmenovatelů nenajdete. Hang drum, saxofon a bicí souprava jsou pryč. Současná hudba Portico klouže na vlně zvukové halucinace, vydává se vstříc dalekým neprobádaným místům a přistává někde mezi strukturovanými popovými skladbami a rozpadajícím se ambientem. Living Fields je plná reverbem nasáklých klavírů, studiového hluku, bicích smyček, jež odměřeně porcují prostor kolem arpeggia synťáků, a elektronické basy.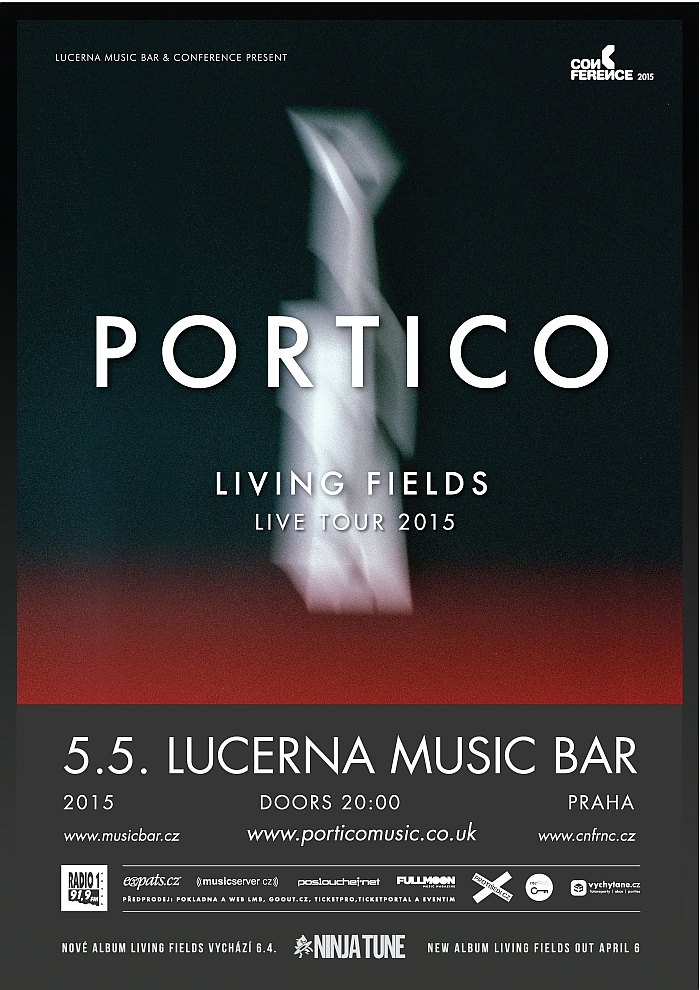 K nahrávání Living Fields si Portico pozvali trojici vokalistů – Joe Newmana z kapely Alt-J, Jamie Woona a Jono McCleeryho. Výsledek společného snažení Portico a jejich hostů nepřipomíná nic, co produkovala trojice v minulosti. A jak upozorňuje basista Fitzpatrick, nemusí mít album ani nic společného s budoucí produkcí kapely: "Living Fields je jen jedno album. Kdo ví, jaké bude to další? Bereme to krok za krokem."
Písničky, které nazpíval Jono McCleery, zaznamenaly takový ohlas, že dostal pozvánku vyjet s Portico na evropské turné a samozřejmě nebude chybět ani u nás v Praze. Jono McCleery je anglický zpěvák a skladatel, jenž debutoval v roce 2008 albem Darkest Light. Jeho následující album There Is bylo kritiky popsáno jako Miles Davis, Massive Attack, John Martyn, Fink a Radiohead dohromady v jednom úžasně vyprodukovaném albu.
Ačkoliv nová deska vyjde až na začátku dubna, Portico již zveřejnili hned několik singlů, které můžete slyšet na rádiových vlnách anebo na jejich Soundcloudu.
ZDROJ: TZ Lucerna Music Bar a Youtube.com