United Flavour a Ucee chystají na 5. dubna společný koncert Kapela United Flavour vystoupí opět po roce na kruhovém pódiu pražského Lucerna Music Baru. V edle svého setu z alb Unity a Attitude představí i zbrusu novou desku, kterou v jejich studiu natočil v Čechách žijící reggae/soulový zpěvák jménem Ucee. Můžeme se tak těšit na téměř tříhodinovou show plnou skvělé muziky a pozitivní energie. Pokud je máte také rádi, rozhodně si tuto událost nenechte ujít!

United Flavour vydali v minulém roce svou druhou studiovou desku Attitude, s kterou objeli kluby a festivaly v Čechách, na Slovensku a podívali se i do Maďarska, Polska a Španělska, kde vystoupili na největším evropském reggae festivalu Rototom Sunsplash. Vystoupi tam po boku hvězd, jako jsou Gentleman nebo Luciano a bez potíží si obhájili pozici nejprogresivnější české reggae kapely. Po náročné jarní a letní sezóně si pak kapela dala půlroční pauzu, aby se vrátila na jaře 2012 v plné síle. Během přestávky pracovali United Flavour na videoklipech a také na albu dubových remixů,
které vychází 16. března na labelu United Forces of Dub pod názvem Dub Attitude EP. Tato lahůdka vyjde nejprve na vinylu a pak i digitálně!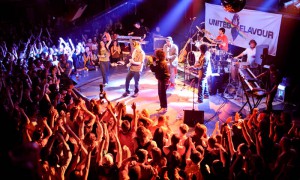 Bubeník Jaro k přípravám na koncert v Lucerně dodává: "Od půlky února zkoušíme čtyřikrát týdně a makáme jak na materiálu United Flavour, tak na nových věcech Uceeho, kterého budeme jako Flavour Band doprovázet v sólovém setu. Připravujeme vlastně naráz dvě shows, takže je to trochu náročné. Těšíme se, až si po delší době zase zahrajeme před skvělým pražským publikem."
Ani charizmatický zpěvák Ucee už není v Čechách neznámé jméno. Do Prahy se přestěhoval před čtyřmi lety, s United Flavour hostoval na desítkách koncertů, a celý rok 2011 připravoval ve Flavour studiu své debutové solo album, které pokřtí právě 5. dubna v Lucerně! Deska dostala
název International Call a vychází 21. března 2012. Album, na kterém se podílela řada domácích i mezinárodních muzikantů, produkoval Djei Gogo, který je také baskytaristou a producentem United Flavour. Nahrávku míchal zkušený britský producent, muzikant a zvukový inženýr Derek Fevrier.
Ucee představí své nové hity premiérově 5. 4. za doprovodu kapely Flavour Band a řady hostů, kteří účinkovali i na novém albu. Za všechny jmenujme alespoň skvělého německého rappera jménem Demograffics, houslového virtuosa Alexandera Shonerta, saxofonistu Radima nebo vokalistky G*apeels. Už teď je jasné, že to bude vice než dvojitá nálož muziky a temperamentu!
Ukázky United Flavour:
Ukázka U-cee:
ZDROJ: TZ United Flavour/U-cee/Music bar