Kapela se také vydává na evropské turné, se kterým zavítá i do Prahy. Těšit se na ně můžete v úterý
26.června od 20:00 v pražském Lucerna Music Baru. Ugly Kid Joe je rocková parta, která vznikla v Kalifornii v Isla Vista v roce 1990. Název skupiny je vtípkem na glamrockovou vlasatou partu Pretty Boy Floyd. Na rozdíl od jiných garážových kapel je zvuk UKJ směsí různých stylů, jako je hardrock, southern, funk, rap a thrash. Členové kapely podle vlastních slov představují různorodost prostředí a životního stylu jižní Kalifornie. UKJ byli na vrcholu slávy v první polovině devadesátých let především díky svému sarkastickému humoru a metalovému soundu. Jejich logem je kreslený "ošklivý chlapeček" s čepicí kšiltem dozadu a fakáčem. Ugly Kid Joe poprvé zabodovali se singlem "Everything About You", který se dostal na třetí místo hitparády Billboard TOP 100 Singles chart (a pobyl si tam 20 týdnů) a také zazněl ve filmu Waynův svět. Singlu "Cat´s in The Cradle" se následně prodalo přes 500.000 kusů jen v USA.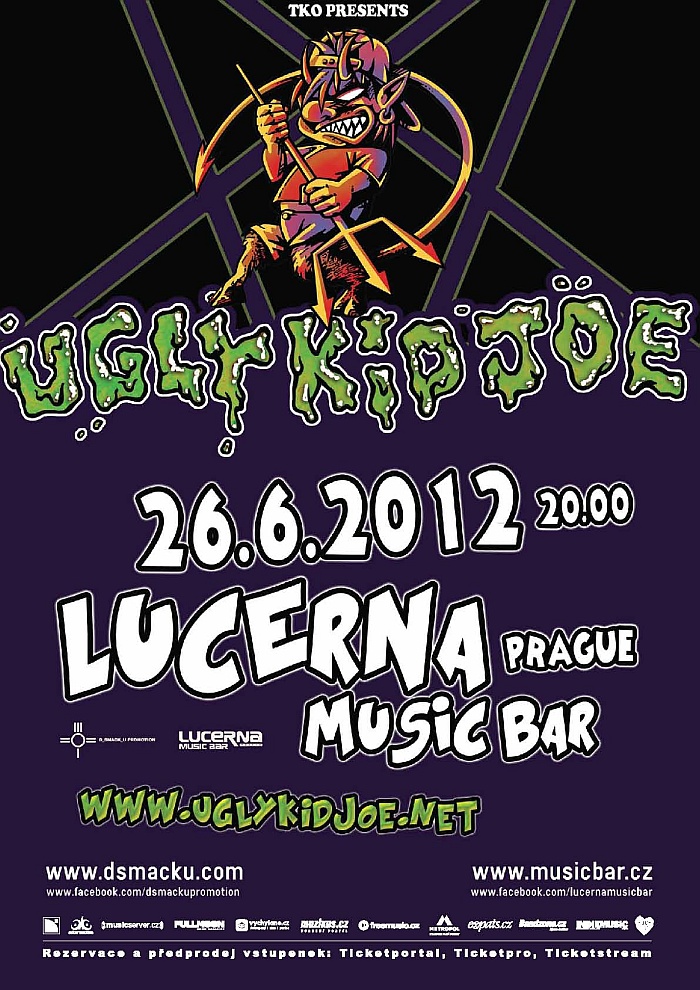 UKJ byli na turné v USA několikrát jako předkapela Scatterbrain a Ozzyho Osbournea. Black Sabbath a AC/DC je hodně ovlivnili, proto nahráli pár jejich skladeb, včetně "Sveet Leaf", "Sin City" a "N.I.B.". V roce 1992 vydali svůj debut "America´s Least Wanted" (číslo 29 v Billboard TOP 200 chart), vyměnili bubeníka Marka Davise za Shannonna Larkina, člena metalových Souls At Zero. S ním natáčejí druhou skvělou desku "Menace To Sobriety", která vychází v roce 195. Nicméně v USA se album neprodávalo příliš dobře a skupina opustila label Mercury Records a založila svůj vlastní Evilution Records, na kterém vydávají v roce 1996 album "Motel California". Whit Crane o něm říká, že je "heavy, funky a je v něm všechno". Kritiky ale příliš oslavné nebyly a skupina Ugly Kid Joe se po posledním turné k albu v roce 1997 oficiálně rozpadla.
V roce 2011 se však členové kapely po dlouhých letech znovu sešli a nahráli šestipísňové EP, které v minulých dnech vyšlo pod názvem "Starway To Hell". UKJ také vypustili do světa nové video k písni "Devil´s Paradise", na kterém je vidět, že to jim to výborně hraje i patnáctileté pauze. Video je k vidění zde:
ZDROJ: TZ D Smack U Promotion a Lucerna Music Bar