Od jejich zvolení neuběhl ještě ani týden a už pečlivě plní své missí povinnosti. Po práci je ale třeba i legraci, a tak se vítězky Miss Czech Republic 2019 vydaly do kina na slavnostní premiéru akčního filmu Alita: Bojový Anděl do megaplexu Cinema City Chodov. Doprovázela je ředitelka soutěže Taťána Makarenko a stylista Sam Dolce.
Jejich krásu obdivoval například Adam Mišík, který se na film také přišel podívat a rovnou se i s děvčaty vyfotil.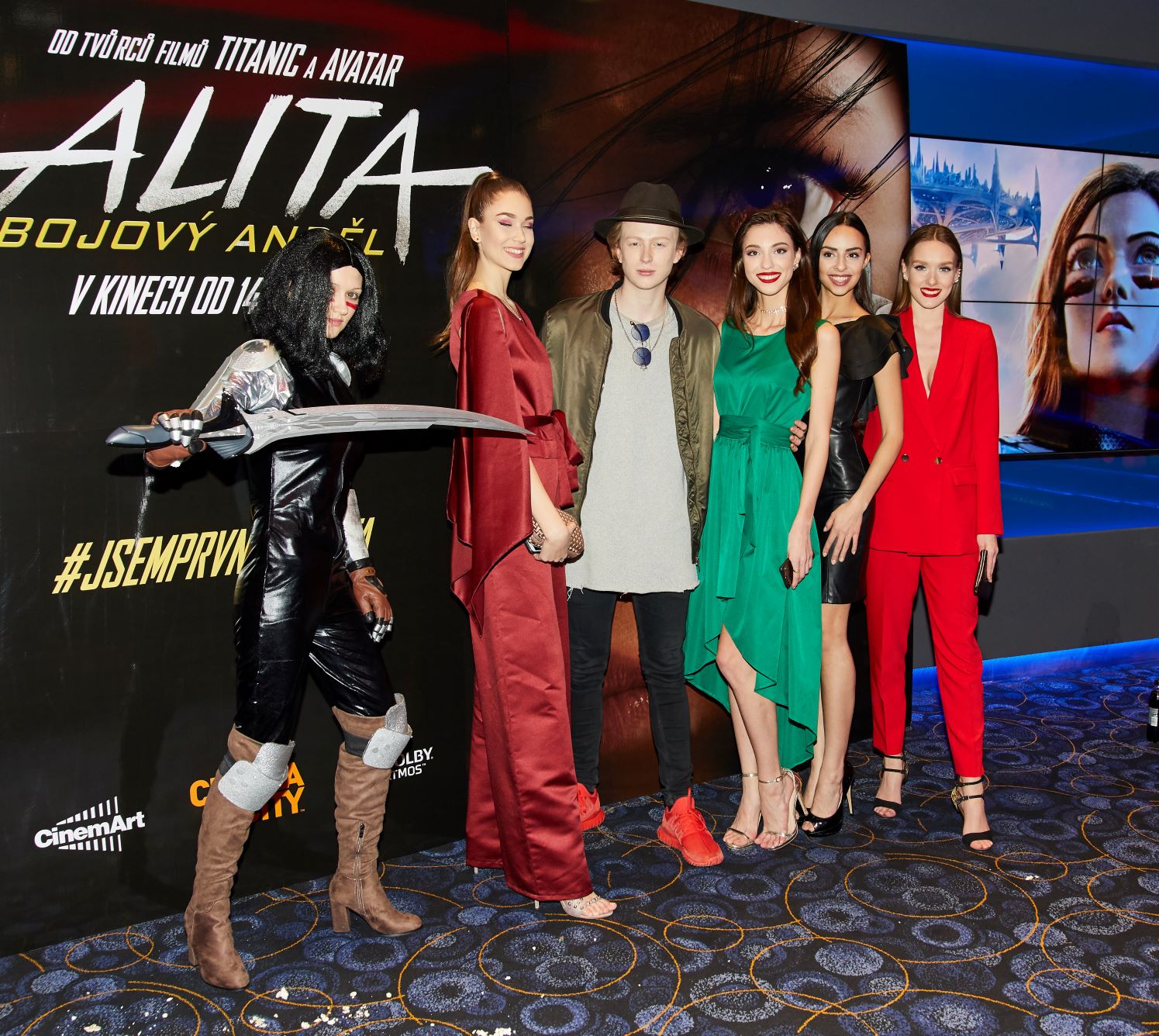 Do kina vyrazila například i Linda Finková se synem nebo Láďa Hruška, který si filmový zážitek nadělil k narozeninám. Jan Maxián se nechal přítomnou cosplayerkou Ality pasovat na rytíře filmovým ostřím z damašské oceli, Kate Matl se toho naopak nebála a dokonce si s ostřím i zašermovala. Dorazili i Sámer Issa nebo rapperka Sharlota. Herečka Denisa Pfauserová ocenila výborné provedení animace kyberdívky. Mezi hosty premiéry se dále objevil i zpěvák Pokáč, vlastním jménem Jan Pokorný, který do kina přišel načerpat síly, neboť ho za chvíli čeká jarní turné a zároveň největší koncert jeho prozatímní kariéry.
Křehké ženy a bojový kyberpunkový film, jeden by řekl, že to nejde dohromady, ale opak je v tomto případě pravdou. Film Alita: Bojový Anděl vypráví příběh z daleké budoucnosti o poničeném kyborgovi se srdcem a duší dospívající dívky a diváci slavnostní premiéry si film mohli užít se skvělým multi-prostorovým ozvučením Dolby Atmos Scénář vznikl podle předlohy japonské komiksové mangy a spolupracoval na něm mimo jiné i oskarový James Cameron. Režisér Robert Rodriguez, autor filmů Sin city, město hříchů nebo Tenkrát v Mexiku, je sice známý pro své kruté bojové záběry, ale možná i díky spojení s Cameronem vznikl sice velmi akční plný různých bitek ale s romantickou dějovou linií, kterou všechny přítomné ženy určitě ocenily.
Novinku s názvem Alita: Bojový Anděl můžete navštívit v multiplexech Cinema City v předpremiéře již od 13. února , a to ve všech dostupných formátech jako je 2D, 3D, IMAX, 4DX, Dolby Atmos a VIP Chodov! Více informací o jednotlivých projekcích a kinech naleznete na www.cinemacity.cz.
ZDROJ: TZ PResscode