Ve čtvrtek, 17.4. byl na programu klubu Lucerna Music Bar (LMB) koncert známé a hodně oblíbené britské kapely Dub Pistols. Ti jsou pověstní svojí divokou pódiovou show a protože jsem se s nimi ještě naživo nesetkal, velice jsem se těšil, jaké nové zážitky tento koncert přinese. Podporu před a po koncertu obstarali izraelští Echo & Tito a DJ Prince of Persia.

Brány klubu se tradičně otevřely ve 20:00 a začátek koncertu byl ve 21:00, kdy byl koncert zahájen vystoupením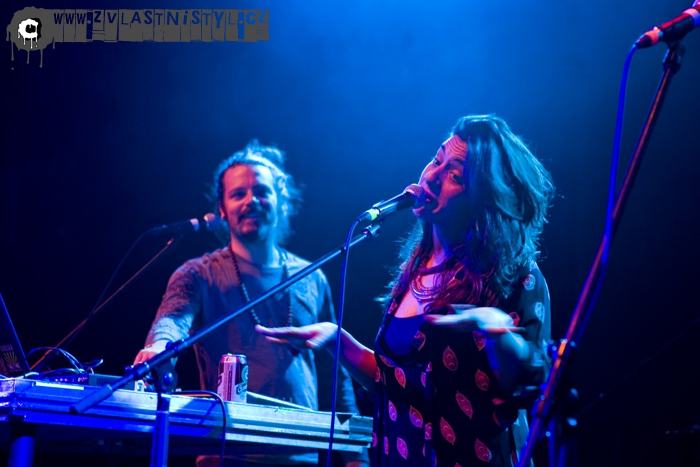 Echo & Tito z Izraele. Tato dvojka složená z DJe a zpěvačky hrála především dub, někdy na hranici s dubstepem, se zpěvy a vokály zpěvačky. Echo & Tito pomalu rozhoupali postupně se naplňující LMB, který však byl obstojně zaplněn již na začátku jejich vystoupení. Jejich performance se mi jako celek velice líbila a z toho co mohli ve dvou zvládnout vytěžili maximum. Malinká výtka by byla jen u zpěvačky, která mi ve výjimečných případech v některých polohách přišla trochu falešná. V celkovém výkonu se to ale ztratilo a dojem z předskokanů byl dobrý, svou roli splnili na výbornou.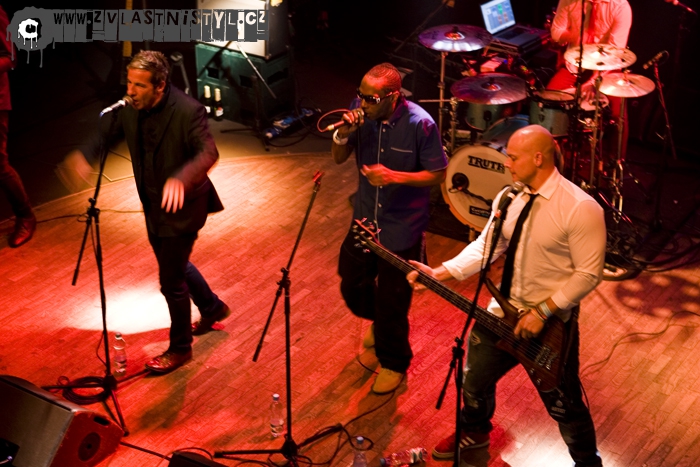 Poté co Echo & Tita dohráli se na pódiu objevil Lukáš Kolíbal a oznámil krátkou přestavbu, po níž dorazili již velmi očekávaní Dub Pistols. Když nastal jejich čas, naběhli na pódium a bez jakéhokoli zdržování zahájili svůj koncert. Po 17 ti letech vystupování na světových pódiích mají pořád neuvěřitelný elán a množství energie. Nejen dva zpěváci, ale celá kapela naplno využila celou plochu pódia aby se ukázali všem, kteří si je přišli poslechnout. Pro fotografy to byla také výzva, protože snad kromě trumpetisty nikdo nebyl chvíli v klidu. V jejich repertoáru převažovaly písně do rytmu drum'n'bassu a breakbeatu, které spolehlivě LMB roztancovaly, tyto písně však šikovně prokládali dubem, reggae, hip-hopem, ale i rychlejšími písněmi do ska.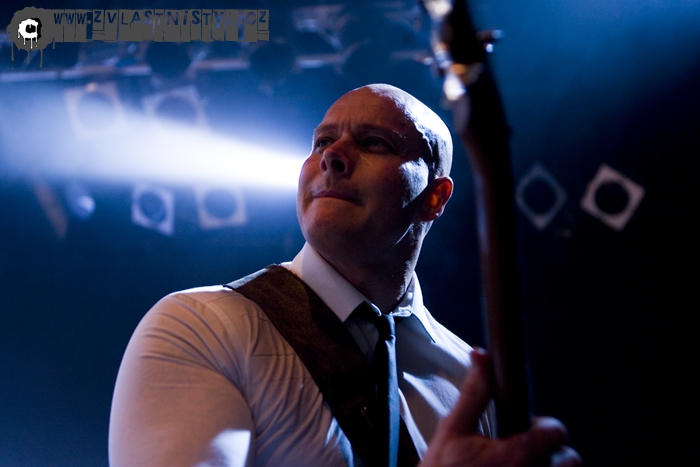 Celý koncert tak utekl velmi rychle, najednou přidávali poprvé, podruhé a koncert byl u konce. Úspěch u diváků měli obrovský, aplaus po každé písni byl skoro až ohlušující. Zazněly písně starší i ty nejnovější, slyšeli jsme například Mucky Weekend, New Skank, Gunshot, Six Million Ways To Live, Soldiers, Revitalise, Ganja nebo Keep The Fire Burning.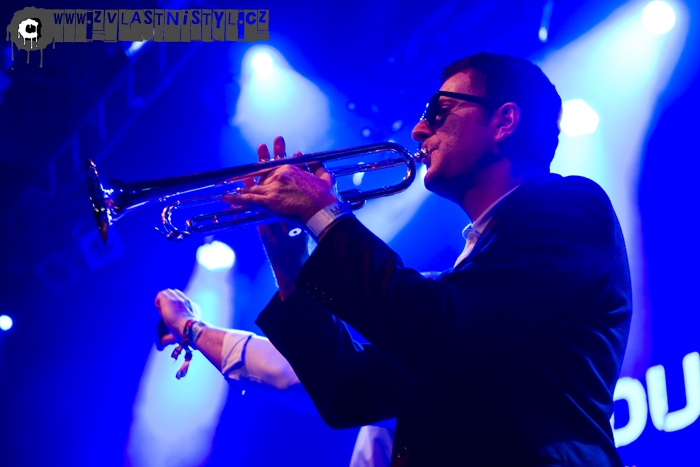 Celý koncert uběhl velice rychle, i tak jsme si ho všichni užili na maximum a je pravdou že Dub Pistols a jejich pódiová show jen těžko hledá konkurenci. I po 17 letech působení dokáží pohltit a uchvátit i někoho kdo je slyšel poprvé a to něco znamená. Po skončení hlavního programu se o afterparty staral DJ Prince of Persia a klub se pomalu vyprázdnil.