I po skončení již osmého ročníku multižánrového festivalu Mighty Sounds, zaměřeného především na ska, punk, reggae a elektronickou hudbu, stále ještě jako bych stále cítil energii, která tam byla. I přes nejisté, proměnlivé počasí dorazilo na festival velké množství návštěvníků. Areál letiště Čápův Dvůr u Tábora byl již tradičně obrovský, letos organizátoři dokonce zvýšili počet míst s hudební produkcí o dvě na celkový počet 10ti stagí.
Cesta na festival se tradičně neobešla bez popojíždění v dopravních zácpách, které ji prodloužili na dvojnásobek. Po příjezdu, zaplacení parkovného a zaparkování, nás čekala dlouhá cesta do stanového městečka, které bylo na první pohled úplně zaplněné, po zdolání větší vzdálenosti se několik míst na stany našlo. Stanové městečko bylo obrovské a především bez jakýchkoli cest a proto každá cesta do stanu byla překážkovou dráhou, jejíž obtížnost se se zapadajícím sluncem a množstvím alkoholu v krvi rapidně zvyšovala.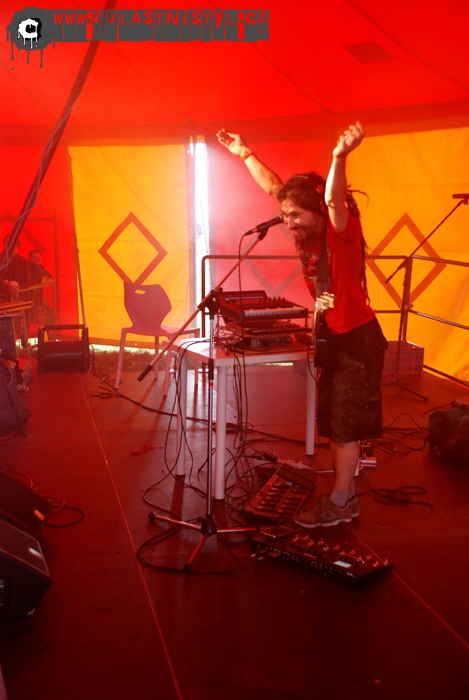 První hudební zastávkou po vstupu do areálu byl koncert Rockyho Leona hrající jump-around rock, reggae, hip-hop a ska. Žánrová rozmanitost ale není to hlavní, co je na tomto umělci unikátní. Rocky Leon totiž hraje za celou kapelu sám, na zemi má mixovací přístroj jak ho můžeme znát od Dub Fxe, na něj si nahrává jednotlivé stopy,  počínaje beatboxovým rytmem, trumetu pusou  a další nástrojů např kytarou nebo ukulele. Tímto způsobem vytváří muziku úplně sám a umí to opravdu dobře. Svou vždy pozitivně naladěnou náladou 'nakazil' všechny přítomné a divadelní stan praskal ve švech. Zahrál například This Side of You, Quit My Job.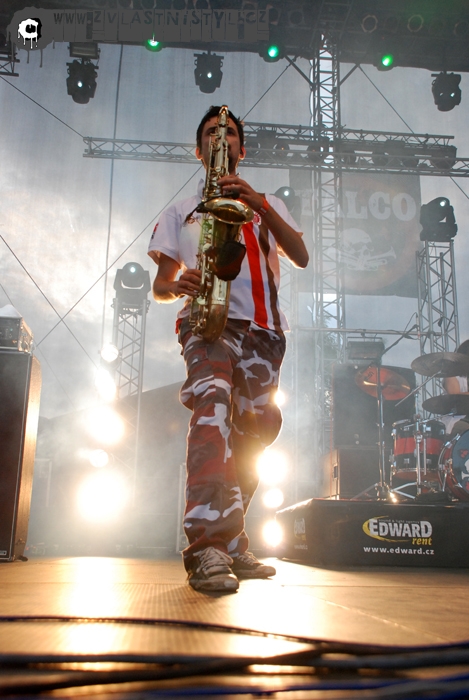 Další zastávkou byla Jan Hus stage na které již hráli italští Talco své energické ska, kteří přilákali velké množství návštěvníků. Talco to rozjeli například s La Torre, nebo Punta Raisi. Po skončení se všichni rozprchli na ostatní stage a na pódiu Jan Hus stage se začala připravovat kapela Shengen Clan backující Alborosieho, který byl další na řadě. Na Cool stagi jsme navázali koncertem českých The Spankers s již dobře zaběhnutou novou zpěvačkou Sisou Feherovou, zazněly klasické hity Superman, Party Lovers.  Jako na většině koncertů byl stan pro fanoušky The Spankers moc malý a tak se tančilo i před vchodem.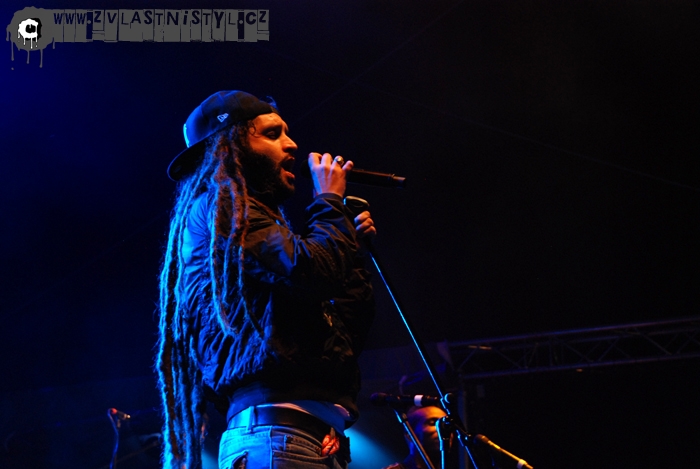 Ještě před koncem, jsme se ale přesunuli zpět na Jan Hus Stage, kde začínal své vystoupení ital žijící na Jamajce – Alborosie, který tak zrealizoval svůj druhý koncert v naší rodné kotlině. Zahájil dubovou písní Sound Killa a dle očekávání předvedl jak skvělou show, tak i perfektní zpěv. Puppa Albo energicky pobíhal pódiu a hrál si se svými neuvěřitelně dlouhými dredy. Zahrál nám všechny klasiky ze starých alb a také několik písní z posledního alba 2times revolution, slyšeli jsme Kingston Town, Herbalist, Rastafari Anthem, Camilla nebo Raggamuffin.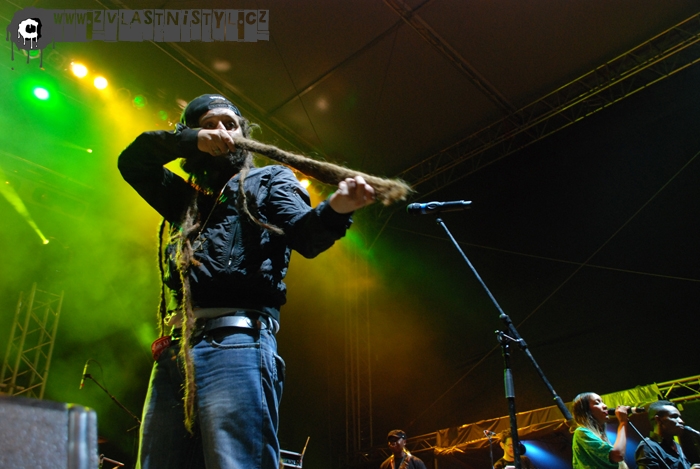 Po skončení pokračoval reggae večer v Radio 1 stanu, kde za gramofony stál Selector Boldrik a společně s ním se tam vystřídal Messenjah, Mr. Roll a Missy M. Po jedné hodině ještě na Jan Hus stagi zahráli Discoballs, kde jsem se krátce zastavil, jejich výkon mě bohužel nenadchnul, důvodů pro to mohlo být více :-). Zbytek programu prvního dne jsme strávili v Greenpeace Elecro cave, kde za pultem úřadoval DJ Pixie, který se opravdu se svým mighty setem vytáhl.
První den jsme absolvovali dokonce bez deště, který prý byl v areálu ještě před naším příjezdem, v sobotu to ale již bylo horší. Report z dalších dní bude následovat.