Kryštof, jediný festival s Chinaski, ojedinělá show Tatabojs, speciální efekty Škwor, ale i festivalová klasika Vypsaná Fixa, UDG, Sto Zvířat – to je jen malá část z největší studentské celorepublikové oslavy prázdnin, která se koná každoročně v Žamberku!

Hlavní kapelou budou němečtí DEZPERADOZ, kapela, která dala to nejlepší z Nickelback, Metallicy, Rammstein a ještě přidala kus osobitosti z westernového světa do špičkově zvládnuté metalové klasiky. To vše podtrženo skvělým zpěvem frontmana kapely spolu s ohňovými efekty a nezvyklou úpravou celého podia vytvoří jedinečnou show, jakou uvidíte jen na JamRocku. Již klasický "nos" na výborné kapely, který JamRock má, přinesl ovoce letos v podobě italské Belladonny, kapela s podepsanou smlouvou na JamRock po té získala dvě nominace na Grammy a jak říkají pořadatelé " při současných cenách vstupného, bychom Belladonnu již dnes nezaplatili"!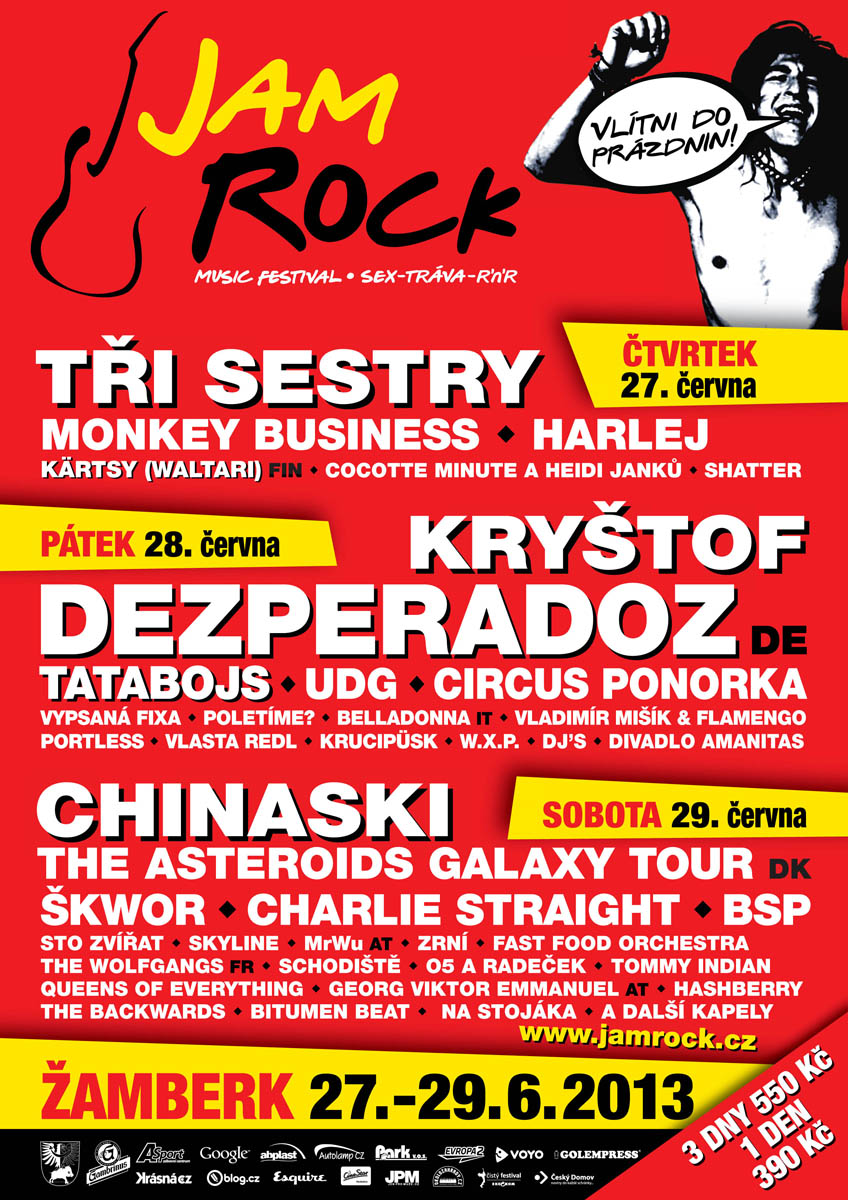 Mnoho příznivců severského metalu potěší frontman skupiny Waltari KARTSY, který představí nejnovější skladby v o něco tvrdším zvuku než dosud.
Vynikající a již téměř nehrající BSP se představí v klasické sestavě s nejlepšími peckami. Do historie se podíváme s Vladimírem Mišíkem a Flamengem v původní sestavě obohacené skvělým Pájou Bohatým. Zahrají legendární Kuře v hodinkách z roku 1968.
Ve čtvrtek představí novinky jak Tři Sestry v rámci svého turné, tak i Monkey Business v čele s charismatickým a zábavným Matějem Ruppertem.
Pořadatelé JamRocku letos usilovně pracují na vzhledu areálu, přibudou umělecké skulptury, workshopy, stánky neziskových organizací a spousta atrakcí včetně partnerů. Uvnitř areálu vznikne celé městečko v městě- pro osoby starší osmnácti let otevřený areál s mnoha bary a DJ. Gambrinus mimo normálních hospod přidává dvoupatrovou s výhledem na hlavní stage a svoje největší nafukovací zábavní centrum s megaskokem. Nebude chybět obří bar od Božkova.
Pro ty, kteří si budou chtít odpočinout od muziky, se nabízejí workshopy vedené jedním z loňských diváků – plakátovým klukem – Vinckem, kdy si budete moct nechat udělat copánky a mnoho jiného. Sobotu zahájí již tradičně nehudební Na Stojáka, ale navíc se budou odehrávat přímo uvnitř areálu různé performance divadla Amanitas, včetně průjezdu areálem "úchylných" kol.
Letošní JamRock přidává "festival ve festivalu" kdy po ukončení vystoupení kapel kolem cca 01.00 hod v prostředí YouTube stage začnou DJ's převážně Drum and Bass. Takže všichni příznivci elektroniky si přijdou také na své…
ZDROJ: TZ JAMROCK