Britská parta Dub Pistols přijede 16. dubna do pražského Lucerna Music Baru v rámci evropského turné. Kapela, která mixuje breakbeat, ska, dub, reggae a elektroniku, je pověstná svými divokými koncerty. Přijďte se sami přesvědčit. Ne nadarmo se Dub Pistols pyšní dvěma tituly Best Live Act britských cen Breakspoll (2013) a DJ Mag Best of British (2011).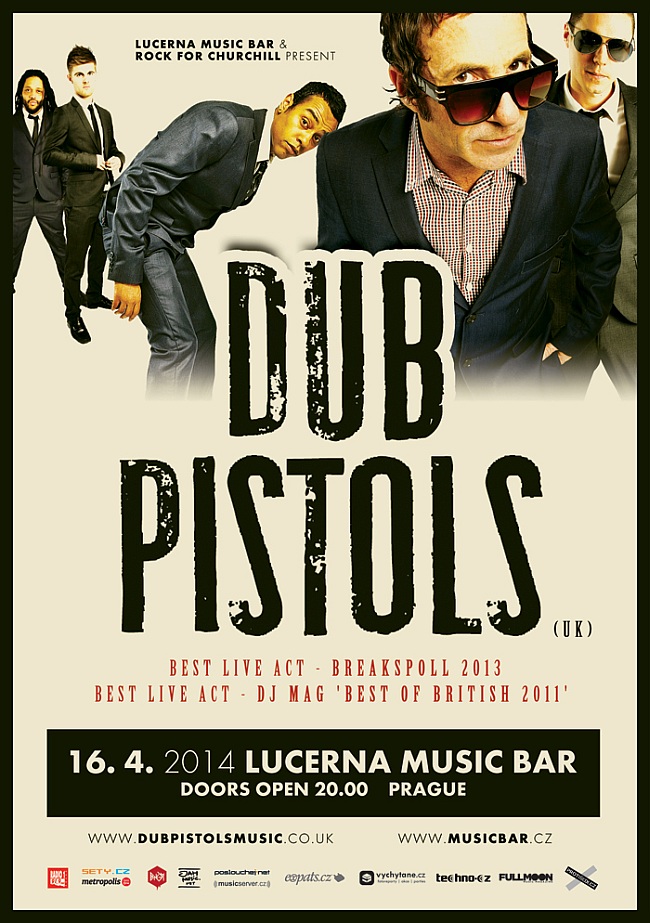 Oblíbenci evropských festivalových pódií a milovníci divokých klubových parties fungují pod vedením frontmana Barryho Ashwortha už 17 let. Vznikli v Londýně v roce 1996 a už o dva roky později skórovali revolučními singly There's Goona Be a Riot, Best Got Better a hlavně debutovým albem Point Blank, díky němuž začali cestovat po světě. V roce 2001 vyšla deska Six Million Ways To Live a brzy poté remixové album Y4K: Next Level Breaks. Dub Pistols bravurně mixují dub, breakbeat a ska tak chytlavým způsobem, že se jejich tracky dostaly i na soundtracky k filmům Blade II, Bad Company nebo Mystery Man. Vrhli se také na remixování a jejich spárům neunikly jména jako Moby, Ian Brown nebo Limp Bizkit. Dub Pistols často spolupracují se spřízněnými umělci. Jejich velký hit Back to Daylight nahráli s Ashley Slaterem a pravidelně spolupracují s Rodneym P. Zatím nejčerstvější deska Worshipping The Dollar, s kterou Dub Pistols absolvovali velkou šňůru po celé Evropě, vyšla v roce 2012. Další studiové album pojmenované White Lines je už na spadnutí a mělo by být venku ještě letos. Nové tracky z novinkového alba ale nebudou chybět ve středu 16. dubna v Lucerna Music Baru!
Vstupenky v předprodeji pořídíte nejlevněji bez poplatku na pokladně Lucerna Music Baru za 380 Kč. Dále pohodlně přímo na webu Lucerna Music Baru a v předprodejních sítích Ticketpro, Ticketportal, Eventim a Ticketstream navýšené o poplatek prodejce. Cena na místě 450 Kč.
ZDROJ: TZ Lucerna Music Bar