Za týden se otevřou brány obřího festivalu Sziget (10.7. – 17.8.2014), na který míří hudební hvězdy z celého světa. Už od pondělí 10.7., kdy se otevřou brány festivalu, Sziget servíruje fanouškům speciality a parádní show, které vévodí koncert Robbieho Williamse. Hvězdný program se jmény Florence and the Machine, Kings of Leon, Avicii, Martin Garrix, Ellie Goulding, Kasabian, Limp Bizkit, Foals a řadou dalších nově doplňují Rudimental. Festivalový rej a koncerty mohou Szigeťani sledovat či sami prožívat na více než 50 místech festivalového ostrova uprostřed Budapešti.
Přestože se podařilo pro letošní rok navýšit kapacitu areálu, mizí vstupenky rekordním tempem. Předprodej vstupenek ZDE
Jako poslední položku programu hlavního pódia jsou pozváni Rudimental a jejich pop & drum´n´bass. I pro druhou největší scénu je tu doplnění, obří stan se scénou A38 pro 15000 diváků, jsou belgičtí indie-popoví Balthazar. Do programu se navíc vrací i obří stan Telekom Aréna, zaměřený na současnou taneční scénu s hvězdami Alesso, W&W, Blasterjaxx, Nervo a řadou dalších. Nechybí však spousty nových a mladých nadějných kapel z celé Evropy, které doplnily v program festivalu. Kompletní seznam se stovkami položek naleznete zde.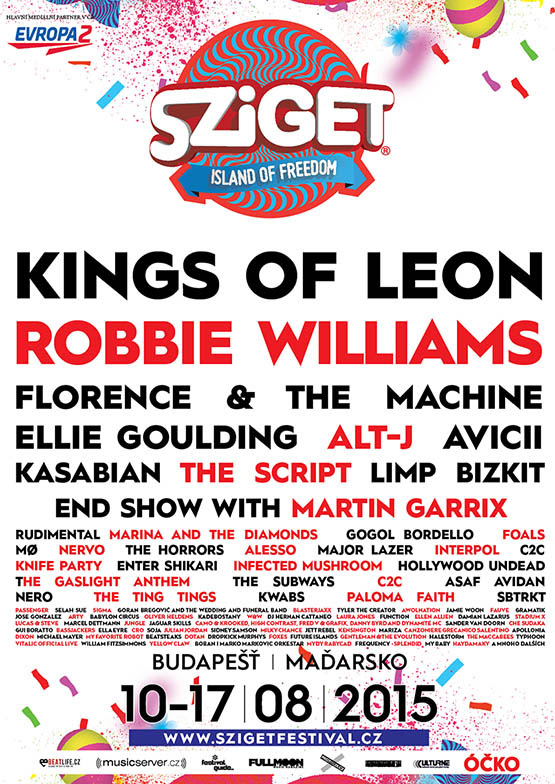 Výběr těch největších hvězd dle dnů:
Po 10.7. – Robbie Williams, Irie Maffia, z ČR Ghost of You
Út 11.7. – Florence & The Machine, Asaf Avidan, Babylon Circus, Kensington, Future Islands, Infected Mushroom
St 12.7. – Alt-J, Gogol Bordello, The Horrors, The Script, SOJA, Enter Shikari, CRO, SBTRKT, z ČR Cirk La Putyka
Čt 13.7. – Ellie Goulding, Foals, The Ting Tings, MØ, Ella Eyre, Balthazar, Interpol, z ČR Cirk La Putyka
Pá 14.7. – Avicii, Kasabian, Marina and the Diamonds, The Subways, Jamie Woon, The Gaslight Anthem, z ČR Cirk La Putyka, Mydy rabycad
So 15.7. – Kings Of Leon, Hollywood Undead. Major Lazer William, Paloma Faith, Nero, Foxes, z ČR Cirk La Putyka,
Ne 16.7. – Limp Bizkit, Rudimental, Martin Garrix, José Gonzalez, Kwabs, Fauve, Passenger, C2C, z ČR Cirk La Putyka,
Pro návštěvníky, kteří neznají Sziget lze ve zkratce říci, že je to největší hudební festival ve střední Evropě, který probíhá na ostrově na řece Dunaji v maďarské metropoli Budapešť a zatím jako jediný v historii je dvojnásobným držitelem evropského ocenění EFA "Best Major Festival" (2011 a 2014). I pro letošní rok areál prošel řadou úprav a vylepšení. Kromě návratu obřího tanečního stanu si návštěvníci mohou užít nově divadelní a klidovou zónu festivalu Sziget. Nebude chybět ani scéna věnovaná jazzu a klasické hudbě, world music s hvězdami jako je Goran Bregovič či Maríza, nebo scéna s irskou hudbou. Protože festival se nachází na ostrově o rozloze 76 hektarů, doporučujeme již předem prohlédnout mapy areálu.
https://www.youtube.com/watch?v=k_JqgPOJBpA
ZDROJ: Sziget festival