Vlajková loď mestizo music, v Barceloně usazená kapela Che Sudaka, se po roce vrací do Prahy. V neděli 25. ledna představí v pražském Lucerna Music Baru nové album Hoy. To vyšlo v říjnu minulého roku a kapela se na něm podle svých slov vrací ke kořenům.
Kdekoliv se dva argentinští bratři Leo a Kachafaz společně s kolumbijskými kámoši Cheko a Jotou objeví, jejich fúze ska, punku a latinskoamerického stylu cumbia garantuje pořádně rozjetou párty. Však pozorný český fanoušek jistě ví. O divokých koncertech Che Sudaka by mohlo vyprávět hned několik pražských klubů a nebo třeba festival Rock for Churchill, na kterém vystoupili v roce 2013.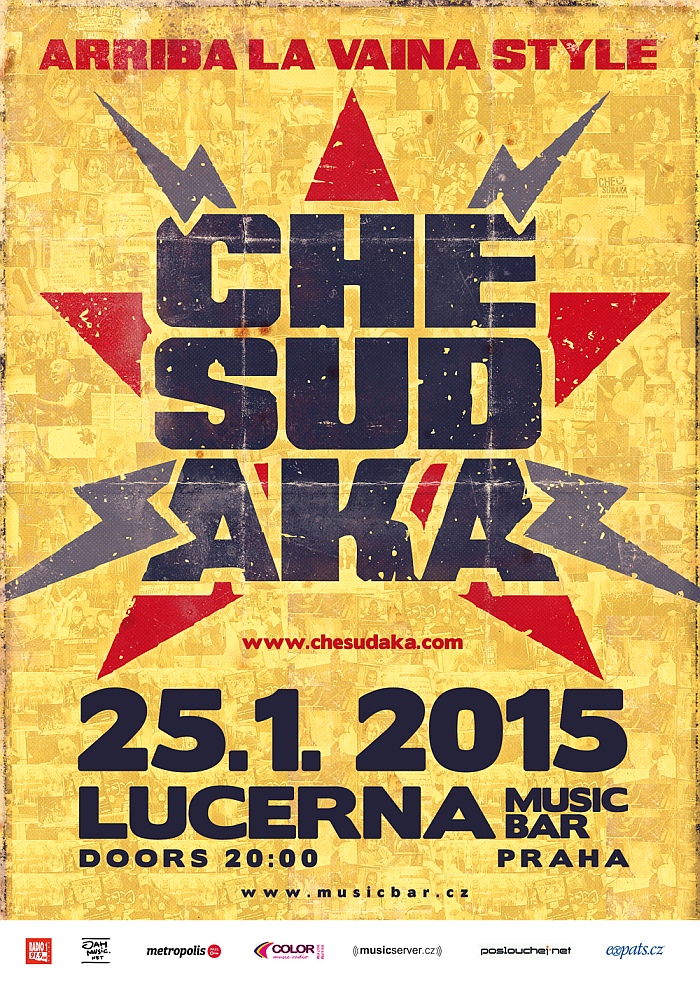 Letošní návštěva této kosmopolitní party bude obohacena o novou desku, jež byla vydaná v říjnu 2014. Jmenuje se Hoy, obsahuje 12 tracků a kapela se na ní vrací ke svému původnímu zvuku. Na scénu se opět dere živelná latino ulice doprovázená elektronickými základy. Styl, který si Che Sudaka pro sebe pojmenovali jako La Makina Punk. Jak je u Che Sudaka dobrým zvykem, ani na nové desce nejde jen o muziku. Podstatnou roli mají i jejich expresivní sociokritické texty, které odstraňují ideologické nebo psychologické hranice a snaží se bránit lidskou koexistenci proti politickému a mediálnímu tlaku.
Dřívější ilegální imigranti z barcelonských ulic mají za sebou více jak 1500 koncertů ve čtyřiceti různých zemích. Jejich hudební kořeny vycházejí z jihoamerické populární kultury a legendárních kapel jako The Clash, Mano Negra a Los Fabulosos Cadillacs. Ohromující energie, kterou předávají divákům během koncertů, je jejich hlavní značkou. Přijďte si načerpat trochu toho jižního temperamentu…
Vstupenky v předprodeji pořídíte za 300 Kč + poplatky. Předprodej běží na pokladně Lucerna Music Baru (bez poplatku), na webu musicbar.cz a v předprodejních sítích GoOut.cz, Ticketpro, Ticketportal a Eventim. Na místě 350 Kč.
ZDROJ: TZ Lucerna Music Bar