Fanoušci nabroušených kytar a prvotřídního reggae můžou jásat! Na 15. ročník festivalu Rock for Churchill dorazí britské punk-rockové trio The Subways a jamajský Anthony B, velká hvězda ze světa reggae a dancehallu. Společně s The Parov Stelar Band, Dub Pistols a Dreadzone budou hlavními taháky poslední velké akce prázdnin.

The Subways pilně makají na 4. studiové desce, která by měla vyjít v příštím roce. Na festivalové turné, jehož součástí bude i vystoupení na Rock for Churchill, si Subways připravili nový koncertní set, který bude obsahovat i zbrusu nové pecky z připravované desky. Kapela hraje od začátků ve stejné jednoduché sestavě – Billy Lunn (kytara a zpěv), Charlotte Cooper (basa a zpěv) a Josh Morgan (bicí). Jednoduchost a přímočarost je ostatně charakteristická i pro jejich energickou muziku. Žádné složité aranže a vymýšlení. Prostě volume doprava, silný refrén, punkový groove a jedeme! Subways dostali zásadní kick off už v prvních letech své kariéry, kdy si je z talentové soutěže vybral Michael Eavis na Glastonbury 2004. Za sebou mají 3 skvělá studiová alba, která přinesla zásadní hitovky jako Rock & Roll Queen nebo We Don't Need Money To Have A Good Time. Ochutnávku ze čtvrté desky vám Subways naservírují osobně na Rock for Churchill.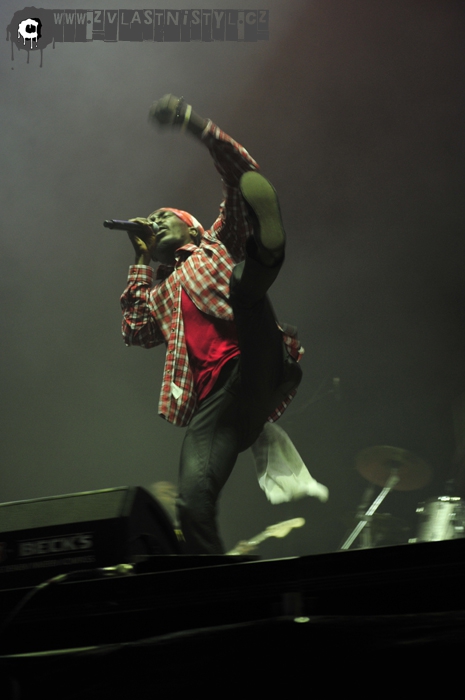 Do Vroutku se konečně podívá i jamajský reggae-dancehallový zpěvák Anthony B, který je po loňských vízových peripetiích konečně v Evropě a je připraven početnému zástupu svých českých fanoušků vynahradit loňské zrušené koncerty. Vystoupení Anthonyho B bude součástí Tribute To Legends Tour 2014, které nese jméno podle jeho nejnovějšího alba. To vyšlo v srpnu 2013 jako pocta hudebním velikánům, jenž silně ovlivnili zpěvákovu tvorbu, a obsahuje Anthonyho vlastní verze písní od Boba Marleyho, Petera Toshe, Israel Vibration, Raye Charlese, Johna Lennona a Elvise Presleyho. Rock for Churchill se samozřejmě dočká i velkých hitů jako jsou World a Music, Raid the Barn, Police, Good Life a dalších.
Vedle dvojice zahraničních interpretů pořadatelé minulý týden zveřejnili také další účinkující z domácí scény. První trojice Wohnout, United Flavour a Skyline patří ke stálicím vrouteckého festivalu. Druhá trojka Zrní, Zoči Voči a Cocoman & Solid Vibes se na Rock for Churchill představí poprvé. Zpěvák a producent Cocoman navíc přiveze novou sólovou desku Zázraky, která vyšla před pár týdny.
15. ročník festivalu Rock for Churchill proběhne tradičně poslední prázdninový víkend, který letos připadá na 29. a 30. srpen. Přírodní areál Myslivna bude hostit dvě scény. Program tanečního šapitó pořadatelé odtajní v brzké době.
Vstupenky v předprodeji jsou k dispozici do 30. 6. za cenu 650 Kč (+ poplatky), od 1. 7. se cena zvyšuje o 100 Kč. Předprodej běží v sítích Ticketportal, Ticketpro, GoOut.cz, Sazkaticket, na pokladně Lucerna Music Baru (bez poplatku) a na dobírku na www.rfch.cz (bez poplatku). Při hromadném nákupu můžete využít slevy 5+1 a 10+2 (pouze na pokladně Lucerna Music Baru a při objednávce na dobírku). Stanování jako vždy zdarma.
ZDROJ: TZ Rock for Church(ill)