Přesně rok po vydání debutu Adam Reborn přichází kapela STROY s novým EP pojmenovaným Like It Or Not. Už samotný fakt, že nahrávka vznikala v Los Angeles, dokazuje, že STROY není jednorázovým projektem uznávaných českých muzikantů, ale že jde o regulérní kapelu s nemalými ambicemi. Křest proběhne v pondělí 23. listopadu v pražském Lucerna Music Baru. Každý návštěvník dostane ke vstupence zdarma nové EP.
https://www.youtube.com/watch?v=boDAWLjfe6M
Už na první desce trio Michal Skořepa, Miloš Meier a Jakub Antl překvapilo zahraničním soundem a vyzrálými skladbami s rozpoznatelným rukopisem jednotlivých muzikantů. Některé hudební servery zařadily desku Adam Reborn mezi nejlepší česká alba roku 2015, klip na skladbu Adam Reborn mezi nejlepší videoklipy roku a kapelu STROY jako objev roku.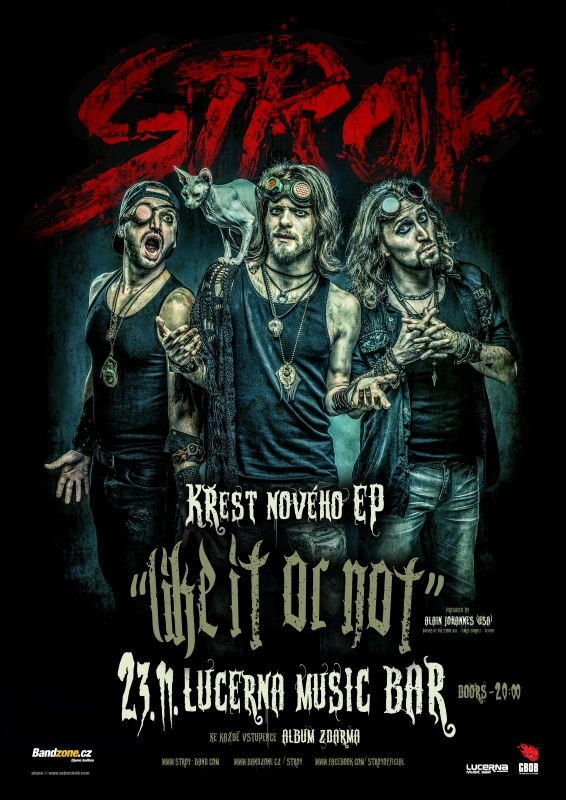 Po letošním úspěchu na mezinárodní soutěži GBOB v norském Oslu, kde STROY skončili mezi kapelami z celého světa třetí, se skupina přesunula do nahrávacího studia 11AD v Los Angeles, aby natočila několik skladeb s producentem Alainem Johannesem (Soundgarden, Queens of the Stone Age, Chris Cornell, Eleven, …). Během jednoho týdne složili a natočili čtyři skladby, ve kterých konečně představují svůj opravdový a syrový sound. Po zvukově bezchybné moderně znějící desce Adam Reborn teď uslyšíte nahrávku, která vznikala společným nahráváním v jedné místnosti s důrazem na zachycení magie okamžiku. První singl Like It Or Not bude ke slyšení od 11. 11., stejnojmenné EP bude poprvé k dispozici na křtu 23. 11. v pražském Lucerna Music Baru. Návštěvníci koncertu dostanou ke vstupence nové EP zdarma.
Vstupenky v předprodeji pořídíte za 200 Kč + poplatky. Předprodej běží na pokladně Lucerna Music Baru (bez poplatků), na webu www.musicbar.cz a v předprodejních sítích GoOut.cz, Ticketpro, Ticketportal a Eventim. Vstupné na místě 250 Kč.
ZDROJ: Lucerna Music Bar