Bob Marley by 6.2. oslavil 69. narozeniny a v Lucerna Music Baru (LMB) si na jeho počest připravili velký koncert přesně týden po Marleyho narozeninách tedy 13.2. A bylo se na co těšit, vystoupili zde slovenští Medial Banana, zpěvačka Sista Carmen se speciální akustickou show připravenou na počest králi reggae, kapela Budapest Riddim Band s Mystic MC a hvězdou večera Omarem Perrym.
Brány LMB se otevíraly ve 20:00 a první hodinu hrál k poslechu za djským pultem Admirál Kolíbal. Medial Banana měli začínat v devět ale začali asi o 15 minut později, nutno dodat, že klub byl tou dobou již příjemně zaplněn a po celou dobu dále se zaplnění zvětšovalo a nakonec bylo účast tak akorát aby se dalo dobře pohybovat, ale zase ne aby bylo prázdno.
Medial Banana tedy započali tuto pohodovou jízdu, jejich pohodové slovenské reggae se dostávalo do všech koutů LMB. Svojí energickou show postupně všechny rozhýbali a ke konci jejich vystoupení měli měli již početné publikum, které je povzbuzovalo a sama kapela vypadala velice potěšena reakcemi masivu a koncert si také užívali. Zazněly písně Reggae Muzika, Horehronie, Pre Teba nebo Pálime.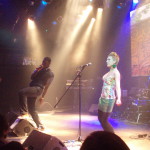 Po krátké přestavbě, během níž Admirál Kolíbal ohlásil speciální akustický set zpěvačky Sista Carmen a pak pustil asi tři songy včetne Boba Marleyho ke správnému navození atmosféry. Poté již na půkruhové pódium nastoupil Djei Gogo a Bill z kapely United Flavour spolu s volkalistkami ze skupiny G*Apeels. Djei i Bill hráli na akustické kytary a tu se najednou ozval zvonivý hlas Carmen ze zákulisí a v LMB to zabouřilo. Bouření ještě zesílilo, když se zpěvačka objevila na pódiu, započala svou show jako poctu Bobu Marleymu a svým krásným hlasem zpívala jeho písně za zvuku dvou kytar a dvou vokalistek, zazněly I Shot The Sheriff, One Love nebo Get Up Stand Up. Všechny nás tím dostala do houpavé meditační pohody a uvolněnosti. Její mocný hlas doslova rezonoval celou lucernou, až z toho chvílemi běhal mráz po zádech. Celá show byla tedy velmi povedená a všichni přítomní  to věděli a také to dávali najevo.
Poté se již na pódiu začala připravovat kapela Budapest Riddim Band, která backovala rovnou dva zpěváky a prvním byl dánský Mystic MC. Po krátkém sestřihu riddimů v podání kapely energicky vyběhl ze zákulisí a rozjel svou reggae/dancehall jízdu. Čile komunikoval s kapelou i publikem a s velkým nasazením zpíval. Zazněly hity Yarding Up, The Weed. Po zpěvové stránce jsem ale byl z jeho vystoupení místy trochu rozpačitý, jeho projev jako takový mě příliš neuchvátil, ale zase v některých polohách mu to ale zase velice sedělo. Rozjet to ale rozhodně uměl a připravil tak půdu pro hlavní hvězdu jamajského Omara Perryho.
Krátce po tom, co nastoupil Omar Perry si celý dav získal. Svým čistým, silným hlasem a krásnými roots i sem tam rychlejšími písněmi. Syn slavného Lee "Scrach" Perryho rozhodně zdědil talent po svém otci a předvedl opravdu úchvatnou show, při které opravdu obratně střídal rychlé a pomalé písně tak, že z masivu dostal maximum. Po každé písni sklízel velké ovace a zdálo se, že se mu v LMB líbí. O tom také vypovídalo to, že došlo na tři (možná čtyři) přídavky a koncert tak protáhl proti obvyklému standardu za půlnoční hodinu. Slyšeli jsme mnoho jeho hitů, například Spiritually, Boom Town, Redder Then Red, Save The Earth nebo Beat Down Babylon.
Celá oslava nedožitých 69. narozenin Boba Marleyho se tedy vydařila na výbornou a všichni, kteří u toho byli, rozhodně neměli čeho litovat. Celý večer plul rytmu a atmosféře One Love a to by se Bobovi líbilo. Narozeniny jsme tedy velkolepě oslavili a příjemný pocit a vzpomínky přetrvají. Po skončení posledního přídavku se hudební produkce opět ujali DJs Jahmusic Lightaz a návštěvníci se postupně začínali rozcházet.