V pondělí 19.11. navštívila Prahu aktuálně jedna z největších Jamajských hvězd reggae a dancehallu Mr. Vegas. Jeho koncert byl v letošním roce posledním reggae koncertem v Lucerna Music Baru. Jeho koncert byl náhradou za Tonyho Rebela s Queen Ifricu, kteří kompletně zrušili své společné turné po Evropě. I přez odlišnost interpretů byl Mr. Vegas více než dobrou náhradou, která ale byla také dražší. Návštěvnost byla v porovnání s jinými reggae koncerty vcelku dobrá, leč na hvězdu takového formátu zároveň i malá. Kvalita byla poznat i tím, že si Mr. Vegase přišli poslechnout i čeští reggae umělci a DJs- Mr. Cocoman, Mr. Roll, DJ Boldrik, stálý návštěvník DJ Kaya.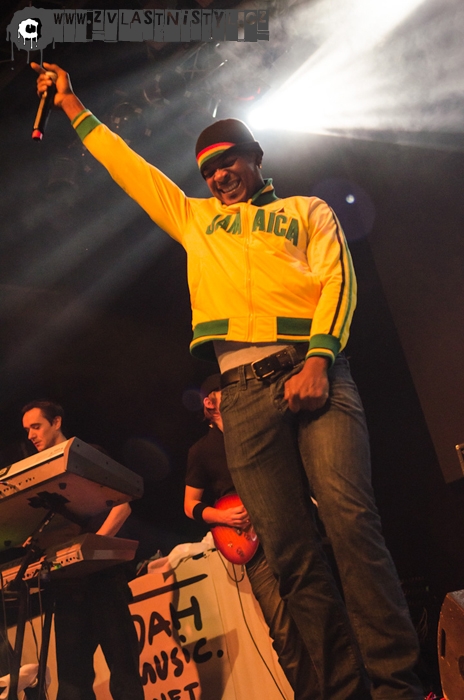 Start akce byl standartně v 20:00, kdy se klub otevíral. K poslechu tu hráli Roccaflex celkem našlápnutou dancehall selekci. Pódium již bylo připraveno a DJský pult byl netradičně po levé straně přímo na pódiu, jak by se dalo předpokládat a jak jsem také později zjistil, bylo to proto, že francouzská kapela Dub Akom Band nebo Mr. Vegas měli vlastního DJe, který mimochodem Mr. Vegase skvěle doplňoval. Začátek hlavního programu byl o půl hodinky posunut na 22:00 aby v klubu už bylo maximum posluchačů. Prostor okolo pódia byl plný tak ze tří čtvrtin, ačkoli to mohlo bý o mo lepší, dobrý massiv jsme vytvořili a bylo nás slyšet :-).
Krátce po 22té hodině na pódium nastoupila francouzská kapela Dub Akom Band se dvěma krásnými volkalistkami, které asi přijeli spolu s Mr. Vegasem, ke kterému asi i patřil DJ, který se po nastoupení kapely ujal mikrofonu a na rozehřátí pustil několik pecek rychle po sobě a všechny zkušeně vyhypoval na příchod Mr. Vegase. Ten poté energicky a s úsměvem na tváři přiběhl na pódium. Stačil zahrát hodně písní, které ze začátku celkem rychle střídal, převážně starší písně jako Tek Weh Yuh Self. Nejvíce prostoru ale dostalo jeho poslední dvojalbum Sweet Jamaica, které je opravdu nabité hity.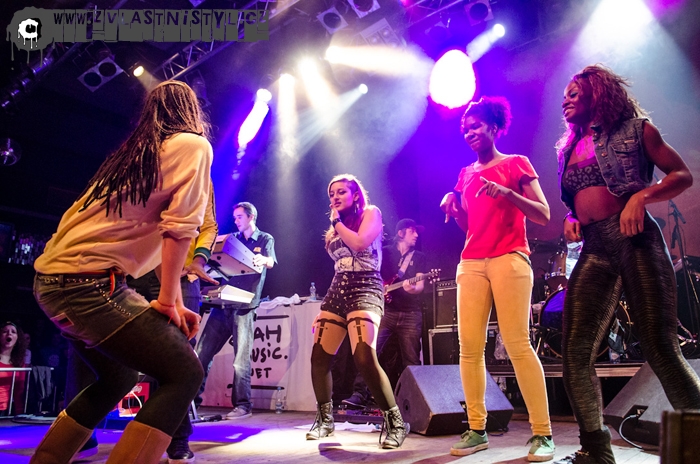 Tyto písničky dostly i více prostoru a byly to například Bruk It Down, při které zatančila jedna slečna, kterou vytáhl z pod pódia a potom i zřejmě jeho osobní dancehall queen. Další velké pecky následovaly, coververze písně Desmonda Dekkera Israelites – Gimme A Light, dancehallovou Party Tun Up, při které vytáhl ještě tři další slečny z publika a každá měla chvíli na taneční exhibici. Dále zazněly God On My Side, I Am Blessed, Things Ruff, titulní Sweet Jamaica nebo  Roses In My Garden. Mr. Vegas při svém vystoupení využíval opravdu celého prostoru, který měl k dispozici, stejně tak repertoáru dobře kombinoval své reggae a dancehallové písně ve vyrovnaný mix. Také díky velkému rozsahu a čistotě hlasu všechny uchvátil a jeho písně jsou tak velice různorodé. Nakonec po přídavku ještě zazpíval několik písní acapella a tím skončil tento jedinečný zážitek.
O afterparty se starali DJ Damalistik a Roccaflex, ale jako vždy se drtivá většina rozešla ihned po skončení, přecejen bylo pondělí. Na závěr bych rád poděkoval Lukášovi Kolíbalovi, který to celé zorganizoval, vybral a dostal k nám po odřeknutí Queen Ifricy s Tonym Rebelem někoho tak skvělého jako Mr. Vegas a doufám, že nakonec nebyla ta návštěvnost příliš tristní.