Dne 13.2.2012 jsme měli možnost shlédnout projekci rodinného filmu Modrý tygr. Film, jehož scénář byl napsán podle stejnojmenné knížky Terezy Horváthové a jehož režie se ujal Petr Oukropec, je okořeněn nejrůznějšími animačními technikami a postupy, čímž zaujme nejen ty nejmenší, ale zajisté i větší děti a dospělé. V hlavních dětských rolích se nám jako Johanka a Matyáš ukážou devítiletá Linda Votrubová a stejně starý Jakub Wunsch, do rolí jejich rodičů byla obsazena jako svérázná maminka Johanky Bára Hrzánová( známá např. z Requiem pro panenku) a otce Kytku si zahrál Jan Hartl.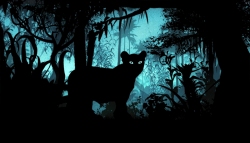 Ačkoliv jsme dorazili o 20 minut po avizovaném začátku filmu našli jsme si své místečko, rychle jsme se uvelebili a začali hltat běžící obrázky- tedy hlavně náš fotograf. Pro toho byla asi největší zklamaní délka animací."I když každá z animací byla velmi dobře provedená, čekal jsem prostě víc animací podobných proměně zahrady," dodává. Velice se nám líbil hlavní hrdina, který před objevením dětmi působil opravdu velkým dojmem. Nakonec to byla přesně taková kočička, s kterou by si každý, kdo má rád zvířátka pohrál. Jeho třpitící se modré chloupky musíme prostě jen pochválit. Děj pohádky je usazen do problematiky dnešní doby nesmyslných rozhodnutí vedoucích ke kontrolovatelnosti masy na úkor naší historie. Filmové obsazení se opravdu povedlo hlavní pohádková postava byla již zmíněný tygr, kterého si zahráli hnědí tygři Áron a Tarzan.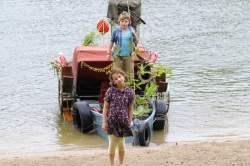 Čas strávený nad hledáním hlavních dětských představitelů Johanky a Matyáše se opravdu vyplatil. O něco více překvapilo herecké podání Báry Hrzánové, která si v tomto snímku zahrála svým způsobem příjemnou maminku Johanky paní Geržovou. Jan Hartl se pro roli Kytky opravdu hodil. Opět ztvárnil zásadového dobráka, kterých je v dnešní době poskrovnu, a to i na filmových plátnech. Děj vám více prozrazovat nebudeme, za to vám doporučíme tento film navštívit.
Ve zkratce Modrý tygr je částečně animovaný, veselý a zábavný film z česko-slovensko-německé koprodukce. Pokud jste milovníkem klasických českých pohádek pro děti( jako např. Lucie postrach ulice, Chobotnice z 2. patra), vřele doporučujeme tento film navštívit a to ať už vám je 5 roků a nebo 70 let.
Premiéra filmu 23. února 2012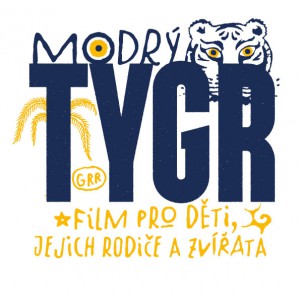 Režie: Petr Oukropec
Scénář: Tereza Horváthová, Petr Oukropec
Režijní supervize: Bohdan Sláma
Kamera: Klaus Fuxjäger
Střih: Jakub Hejna
Zvuk: Jan Čeněk
Hudba: Jakub Kudláč, Markus August
Animace: Michal Struss
Výtvarník: Juraj Horváth
Architekt: Henrich Boráros
Výtvarnice kostýmů: Andrea Králová
Umělecká maskérka: Jana Bílková
Hrají: Linda Votrubová, Jakub Wunsch, Bára Hrzánová, Jan Hartl, Daniel Drewes, Lenka Vychodilová, Anna Polívková, Stano Pitoňák, Libuše Havelková, Jan Vondráček, Hynek Čermák a další
Producent: Negativ
Koproducenti: Česká televize a UPP (ČR), Blinker Filmproduktion (Německo), Arina (Slovensko), RTV (Slovensko)
Podpora: fond Eurimages, Státní fond pro podporu a rozvoj české kinematografie, Ministerstvo kultury (ČR), Film und Medien Stiftung (Německo),
Ministerstvo kultury (Slovensko), program MEDIA
Distribuce: CinemArt
Stopáž: 90 minut