Ve středu 26.9. vystoupil v Lucerna Music Baru oblíbený britský zpěvák Macka B, který přijel i s dubovou posilou v podobě Mad Professora. Warm-up obstarali United Forces Of Dub se kterými si později zazpíval i Fireson Bantu. Vzhledem k oblíbenosti tohoto britského reggae zpěváka se dala očekávat větší návštěvnost a to také bylo poznat hned po vstupu do klubu. Na pravé straně od pódia totiž byly odstraněny židle a stoly přesunuty ke stěně. Všechno bylo tedy připraveno, zatímco klub se pomalu zaplňoval.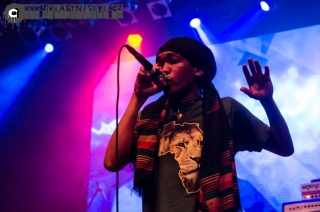 K poslechu hráli
United Forces Of Dub
, kteří drží svůj vysoký standard nejaktivnějších dubových producentů v ČR, z jejich poslední produkce zaznělo několik písní z dubové předělávky posledního alba
United Flavour – Attitude
. Okolo deváté hodiny se k nim přidal
Fireson Bantu
, který stále více se zaplňující prostor trochu více rozhýbal. Navzdory původním plánům a ke spokojenosti všech si
Mad Professor
připravil sólo vystoupení, které myslím nejen mě vyrazilo dech. Ke svému vybavení přišel s červeně svítící čelovkou a jakýmsi smartphonem. To bylo první překvapení, vše co hrál totiž hrál z tohoto telefonu připojenému zřejmě na nějaký speciální mixážní pult. Když si představíte všechny tyto věci dohromady navíc se zvláštním způsobem jak mixážní pult ovládal, jevil se jeho živý dub se jako čirá magie.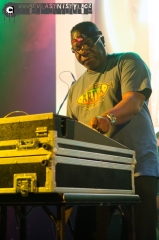 Zatímco
Mad Professor
kouzlil na pódiu, klub se stále více naplňoval, i přesto, že jeho dub byl místy trochu "uspávací", měl i spoustu světlých momentů a jako celek působil skvěle, jeho kompozice, mocné basy a živé mixování, to je zkrátka zážitek, který je vzácný. V průběhu svého vystoupení daroval své aktuální CD
Roots Of Dubstep
divákovi, který věděl, co znamená
Ariwa
– název jeho labelu, správná odpověď byla komunikace.
Krátce před půl jedenáctou již bylo vše připraveno na vystoupení hlavní hvězdy Macka B a Roots Ragga Band. Nejdříve na pódium nastoupila pouze kapela, která zahrála sestřih riddimů, po kterém již bez protahování na pódium naběhl Macka B. Vzhledem k přítomnosti Mad Professora, který se staral o zvučení a efekty při koncertu, byl celkový feeling jiný, než z běžného koncertu či záznamu. Celý koncert měl mocný dubový zvuk, což se týkalo především starších písní, které dostaly nový dubový kabátek.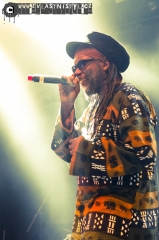 Mimo starých známých písní s sebou přivezl
Macka B
dvě nová alba, ze kterých nám také představil několik písní. Celé jeho vystoupení bylo velmi energické a jako vždy s posláním, které prostupuje celou jeho tvorbou. Mohli jsme tedy slyšet staré pecky v dubovém kabátku –
Roots Is In Town
,
Roots Ragga
,
Sex Machine
,
Big Mack
nebo
Dont Drink Too Much
. Mimo tyto pecky ale přivezl předvést i svoje dvě poslední alba,  
Change The World
a
Rasta Soldier
, z nich zazněly novinky
Medical Marijuana
,
Reggae Daddy
,
Never Played A 45
,
Jah Will Provide
,
Rasta Soldier
nebo fotbalovou
Outta Order
. I ve svých nových písních se hodně opírá o poselství například
Reggae Daddy
je o tom, že reggae je tatínkem  stylům vzniklým ve Velké Británii jako Jungle, Drum'n'Bass a Dubstep, nebo v
Never Played A 45
upozorňuje na vytrácení se vinylů a vyzívá selectory, kteří vůbec vinyly nehrají aby je také do své selekce zařadili, protože selector který nikdy nehrál 45 vinyl není pravým selectorem. Macka B je opravdu oblíbený a tak zaplněný music bar si žádal přídavky a Macka B přidával, přidal celkově asi 3x a celý svůj koncert natáhl skoro na dvě hodiny. Po skončení pokračovala afterparty pod taktovkou United Forces Of Dub.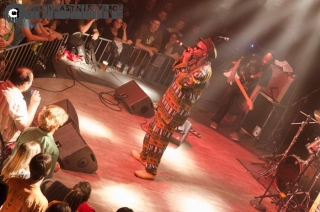 Macka B uchvátil všechny a nová alba jeho vystoupení velice prospěla, vzhledem k tomu, že předtím byla jeho vystoupení podobná jako vejce vejci je svěží vánek v podobě nových písní, které jsou minimálně stejně dobré jako ty předchozí a některé i lepší. Jeho nová alba tedy mohu jen doporučit.