Ve středu … se v Lucerna Music Baru (LMB) uskutečnil velký nezapomenutelný koncert, který ale měl tu smutnou příchuť, že je to naposledy. Vystoupila tu kapela Basta Fidel, kterou opouští zpěvačka Marqet a kapela tak jak ji známe končí. Nutno podotknout, že se rozloučili opravdu ve velkém stylu a naplnili svá slova, že to bude největší a nejpompéznější rozloučení ever.

Klub se otevíral ve 20:00 a protože kapela na facebook události napsala, že kdo chce slyšet vše, musí přijít včas. To u vchodu do LMB vytvořilo opravdu dlouhou frontu, kterou jsem tam tedy ještě opravdu nezažil. Fronta sahala až ke vchodu do pasáže Lucerny, kapela má zkrátka hodně fanoušků, kteří se všemi chtěli rozloučit.
Po vyčekání první fronty na vstup a druhé na šatnu jsme se konečně dostali do klubu. Byl s ohledem na čas opravdu hodně zaplněný, jen se všichni zdržovali u barů a dále od pódia.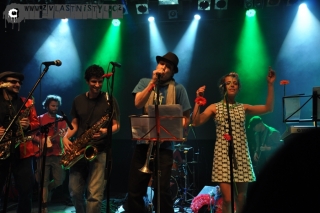 Koncert začal krátce před devátou hodinou. Kapela si na své rozloučení připravila přůřez svou historií a podařilo se jim sezvat všechny hudebníky, kteří si s kapelou kdy zahráli. Na pódium tedy nastoupila kapela
Fidel Castro
ve svém původním složení zahráli staré klasiky z alba
Had má víc těl než-li rukou,
které hráli z většiny i v pořadí jako jsou na albu, zazněly např.
Sova, Ostrov svobody, Skandál, Ropucha
,
Trapná basa nebo Jamajské ska
. Po skončení poslední písničky se na pódiu objevila Marqet a popsala, jaké změny proběhly, zazpívala si s nimi
Ňu 
ve své verzi a
New York v dešti
ohlásila trio zpěvaček, které s kapelou také nějakou dobu hrálo, ty zazpívali tři písně,
Snow Flake, Might Be,
tu poslední si bohužel nepamatuji. Za mikrofon se pak vrátila Marquet. Po dalších písních, z alb
Plezír
a
FU
jako
Bloody Mary, Letí, No Fear, Cut My Head Off
,  následovala 15 minutová přestávka která se protáhla skoro na půl hodiny. Po další písni se ještě obměnili dva hudebníci a hle, kapela byla ve svém aktuálním složení.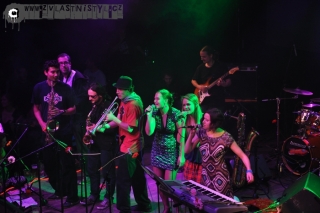 Ruzně na pódiu byly umístěné květiny , které pak v průběhu druhé půlky členové kapely házeli do publika a to jim je zase vracelo. V druhé půli zazněl zbytek hitů z alb Basta Fidel, námátkou
Drunk'n'Bass
,
Cigošská
,
Reste Fidele
,
Lída
nebo
Silence
Po poslední písničce a několikaminutovém ohlušujícím řevu nastoupili zpátky na přídavek. Když podruhé odcházeli do zákulisí, DJ se již připravoval začít hrát , dokonce pustil první desku, ale nenasytný dav přivolával kapelu zpět, načež dojatá Marqet přiběhla k mikrofonu, s tím, že by rádi ještě zahráli ale neví co, po chvíli dorazili na i ostatní členové a v hloučku se domluvili na úplně poslední písni. Poté byl již kapele
Basta Fidel
konec.
Vesla se opět chopil DJ a členové kapely se na chvíli pohybovali okolo baru aby dali možnost komukoli je pozravit a dokonce s sebou u stolu vpravo od stage měli plakáty a fixy, kdyby si někdo chtěl ulovit podpis. Bohužel se celkem rychle roprchli a nebylo možné od každého získat podpis ale co, tohle byl především jejich večer a rozloučení se jim opravdu velice povedlo. Celý fotoreport si můžete prohlédnout zde.