Kytarista Michal Pavlíček pokřtí 16. dubna v Lucerna Music Baru nové album Pošli to tam!, které vyšlo 22. března. Vstupenky v předprodeji za 350 Kč (+ poplatky) pořídíte na pokladně Lucerna Music Baru (bez poplatků), na webu Lucerna Music Baru, GoOut.cz, Ticketmaster a Ticketportal. Na místě pak za 450 Kč.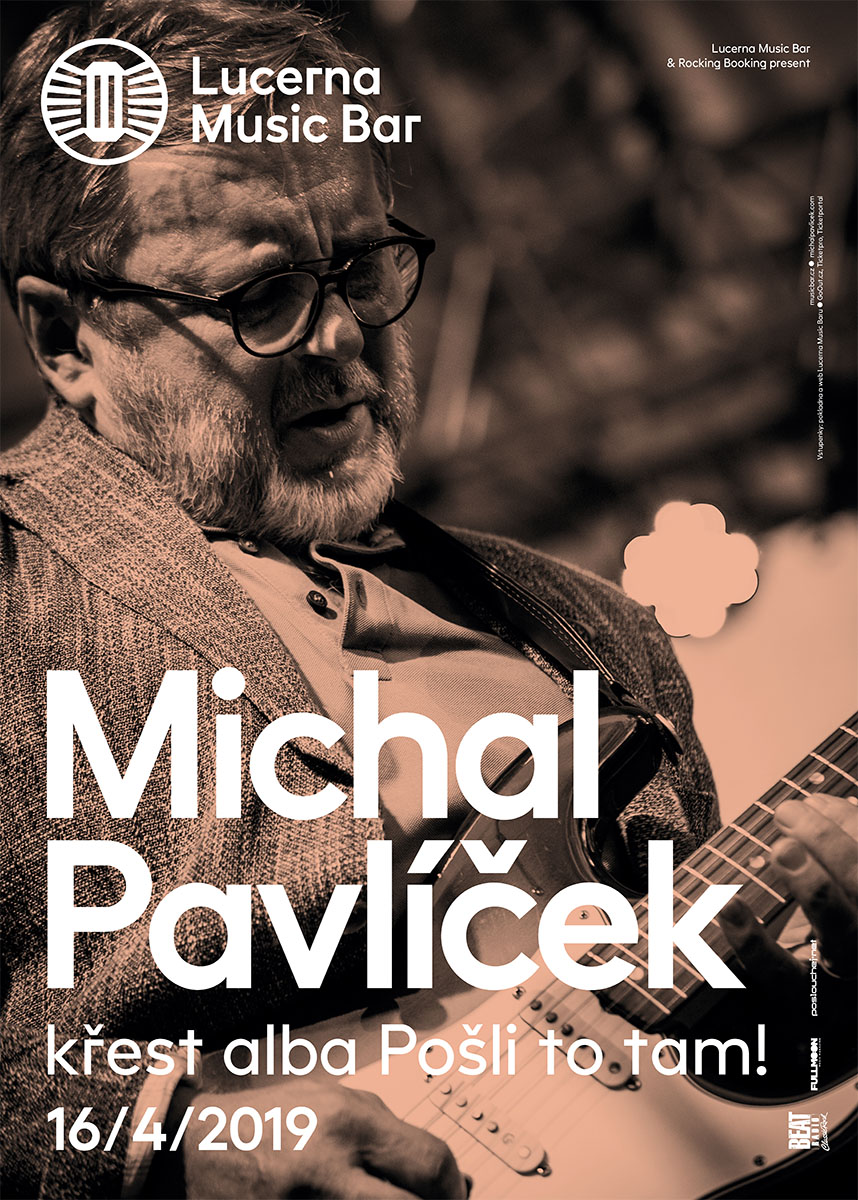 Pošli to tam je autorské album zčásti tvořené instrumentálními skladbami a částečně písněmi v podání několika hostů. Michal Pavlíček sestavil novinkové album v duchu svého vnímání hudby jako svobodného horizontu bez hranic a stylových omezení. Sousedí zde tedy skladby různorodé, postavené tu na sólové kytaře, jinde na vokálu. Takže zatímco Dunění je masivní kytarový pochod se skandovacím rapem na text Jáchyma Topola, který vyvolává temnou atmosféru, tak Jen ten, kdo zbloudí, najde cestu je zhudebněná báseň Michala Horáčka, akustická balada, křehký duet Richarda Müllera a Svetlany Rymarenko se snovou náladou. Zběsilá kytarová jízda v  písni Pošli to tam s mistrovskými bicími Miloše Meiera je zase zdánlivě na jiném břehu nežli Odcházení. Původní skladbu, kterou Pavlíček složil pro film Václava Havla, pro album otextoval Vlasta Třešňák, který ji také spolu s Monikou Načevou nazpíval.  Jako další zpívající hosty pozval autor na natáčení alba dvě mladé zpěvačky, Milly Honsovou a Elišku Procházkovou. Dva texty vytvořil Jan Sahara Hedl a Babalu napsala Markéta Pilátová. Obal alba navrhnul sochař, designer a hudebník Stefan Milkov.
Jedinečný zážitek z nových písní i ze starých hitů v Lucerna Music Baru umocní skvělá doprovodná kapela ve složení Martin Ivan na basu, Michal Daněk na bicí a Michal Nejtek na klávesy.
ZDROJ: TZ Lucerna Music Bar