Festivalová sezona startuje a Mighty Sounds kompletuje hudební program pro svůj devátý ročník. K již oznámeným Suicidal Tendencies, The Subways nebo Ky-Mani Marleymu přibyli Anti-Flag nebo Macka B. Festival, který proběhne 19. – 21. července v Táboře, dokazuje, že letos udrží vysoko nastavenou laťku z minulých ročníků a nabízí mimořádně vyvážený line-up.
Festival Mighty Sounds se už v minulých letech zapsal mezi největší festivaly v České republice a patří ke špičce nejen žánrových akcí v celé Evropě. Letos nabídne každému fanouškovi punku, reggae, punkrocku, hardcoru, ska, rockabilly a spřízněných žánrů to nejlepší. Organizátorům se podařilo každému z žánrů, které festival zastupuje, najít víc než adekvátní headlinery.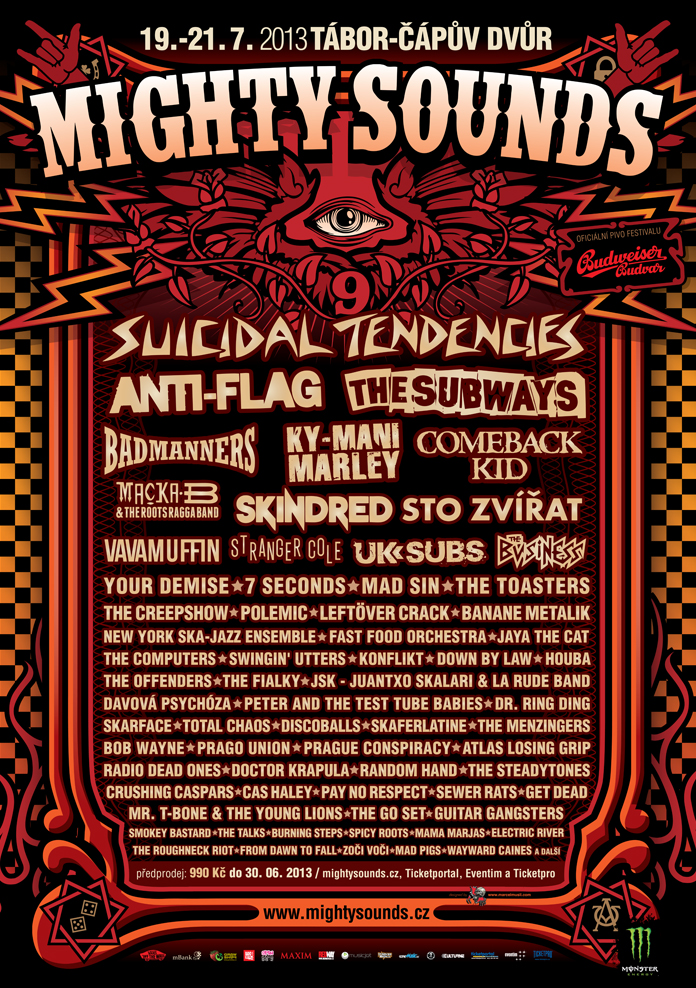 Přijedou Suicidal Tendencies, průkopníci stylu hardcore, kteří jsou na scéně už od roku 1981, a jedná se tedy o skutečnou lahůdku pro všechny fanoušky tvrdších žánrů. Vysokou hráčskou kvalitu této kapely dokazuje bývalý baskytarista Robert Trujillo, kterého si v roce 2003 z muzikantské špičky vybrala Metallica. Vystoupí také indie rockoví The Subways, kteří letí strmě nahoru a stihli si už střihnout hraní například i s AC/DC. Zástupcem reggae je Ky-Mani Marley, syn samotného Boba Marleyho. Nejnověji headlinery doplnili punkoví Anti-Flag, jedna z politicky nejangažovanějších kapel světa, dále reggae a dancehallový velmistr Macka B nebo naprostá špička ska-jazzu New York Ska-Jazz Ensemble. Mnozí zmiňují, že se jedná o historicky nejlepší line-up tohoto festivalu.
Pole působnosti pro živou muziku se navíc rozšířilo: "Díky obrovskému zájmu kapel z celého světa hrát na Mighty Sounds a zároveň díky naší touze představit co nejvíce kvalitních interpretů přibude letos poprvé čtvrté podium pro živé kapely", říká jeden z organizátorů, Jakub Siňor. Vstupenky lze v tuto chvíli zakoupit za 990,- Kč na všechny tři dny. Další informace o festivalu, který kvůli unikátní skladbě interpretů každoročně navštěvuje stále větší počet fanoušků ze zahraničí, a který je proslulý svou jedinečnou atmosférou, najdete na www.mightysounds.cz.
ZDROJ: PRESS KIT 2013 Mighty Sounds