Přesně po dvou letech od posledního sólového koncertu v ČR se švédské trio Movits! vrátí Prahy. Ve středu 10. února přiveze do pražského Lucerna Music Baru nové album They tried to bury us, they didn't know we were seeds, které vyšlo letos 30. října. Movits! se svým nabušeným mixem hiphopu, neoswingu a taneční muziky bodují v USA, Evropě i Japonsku. V České republice jste je mohli kromě sólové show vidět také na festivalech Rock for Churchill, Colours of Ostrava a Rock for People Europe.
Jsou to už téměř dva roky, co se Movits! překonali svým třetím albem Head amongst the clouds. Na desce se kromě jiných písniček objevilo i poetické mistrovské dílo Halvvägs ft. Zacke, klasika s deseti miliony streamy Limousin ft. Maskinen a jarní hitovka Nitroglycerin.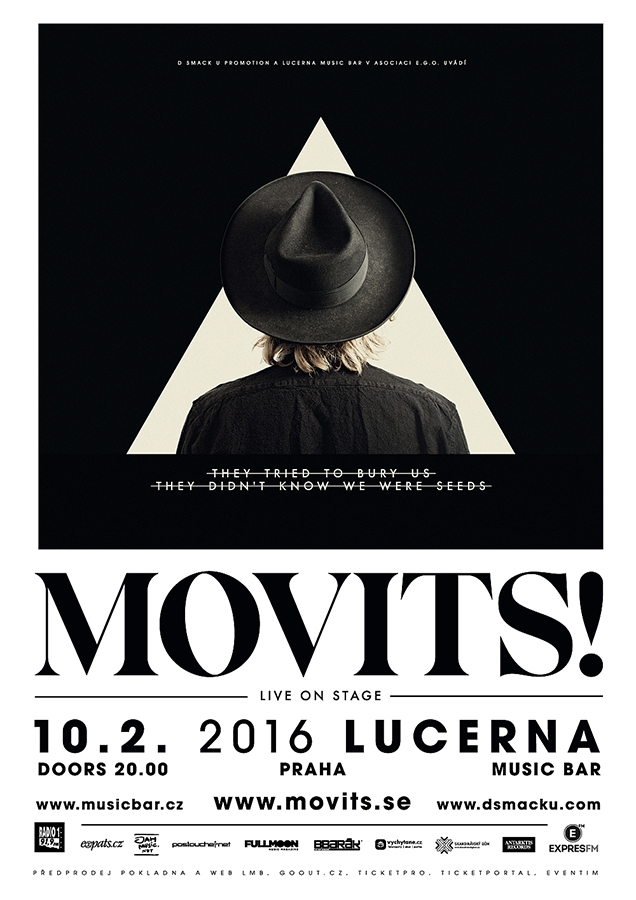 Teď přišel čas si to zopakovat. 30. října 2015 vydali Movits! své čtvrté album They tried to bury us, they didn't know we were seeds s prvním singlem Dansa i regnet, který hudbě Movits! udává nový tón. "Dansa i regnet je typ písničky, která vám běhá v hlavě, když jste na kost promočení a říkáte si: Tak jedem, kurva! Stojíme proti systému a jejich NE už nebereme! Vyjděte do ulic a tančete v dešti!", vysvětlují Movits.
Konzistence Movits! je pozoruhodná. Debutovali v roce 2008 s albem bodovalo v hitparádě iTunes, a od té doby vydávají každé dva roky novou desku. Äppelknyckarjazz bylo jejich období swingu, Skjut mig i huvet soulové album 60. let, třetí deska Huvudet Bland Molnen byla ovlivněná psychedelickým rockem a hippie kulturou 70. letech. U nového alba to podle všeho vypadá na osmdesátky – najdete tam určitě víc syntezátorů a saxofonů než na předešlých nahrávkách.
Nové album jsou ryzí Movits! – jejich charakteristický hip hop s chytrými texty Johana prošpikovaný melodickými dechy tvoří základ alba. S debutem Äppelknyckarjazz to nemá nic společného. Tohle je něco nového! Tohle je sound Movits! v roce 2015!
Vstupenky v předprodeji pořídíte za 430 Kč + poplatky. Předprodej běží na pokladně Lucerna Music Baru (bez poplatků), na webu www.musicbar.cz a v předprodejních sítích GoOut.cz, Ticketpro, Ticketportal a Eventim. Cena na místě 500 Kč.
ZDROJ: TZ Lucerna Music Bar