Politická satira současnosti v internetovém seriálu Kancelář Blaník míří do nejvyšší politiky a nabírá na obrátkách. Tvůrci se strefují do premiéra Bohuslava Sobotky, komunistické poslankyně Marty Semelové nebo předsedy sněmovny Jana Hamáčka. Šéf kanceláře Tonda Blaník v podání Marka Daniela týden co týden ze své židle ovlivňuje dění napříč politickým spektrem. První série seriálu, který se každý týden snaží reflektovat aktuální politické dění, má čtrnáct dílů a poběží tak i v létě.
Aktuální díl nazvaný Myslí to upřímně reaguje na nedávné prohlášení bývalého politika Stanislava Grosse, že přijal víru v Krista. "Dobrý den, pane kardinále… Sám jsem se vám chystal zavolat. Já už jsem s panem Grossem mluvil a on je ochotný se toho Krista zase zříct.. Ano, třeba hned. Akorát to nebude úplně zadarmo. Vy ted' budete restituovat poměrně dost majetku.., " říká do telefonu herec Marek Daniel jako Tonda Blaník. Zdá se, že tvůrci Kanceláře Blaník režisér Marek Najbrt, scenáristé Robert Geisler, Benjamin Tuček a nově i Tomáš Hodan se nebojí ničeho a nikoho.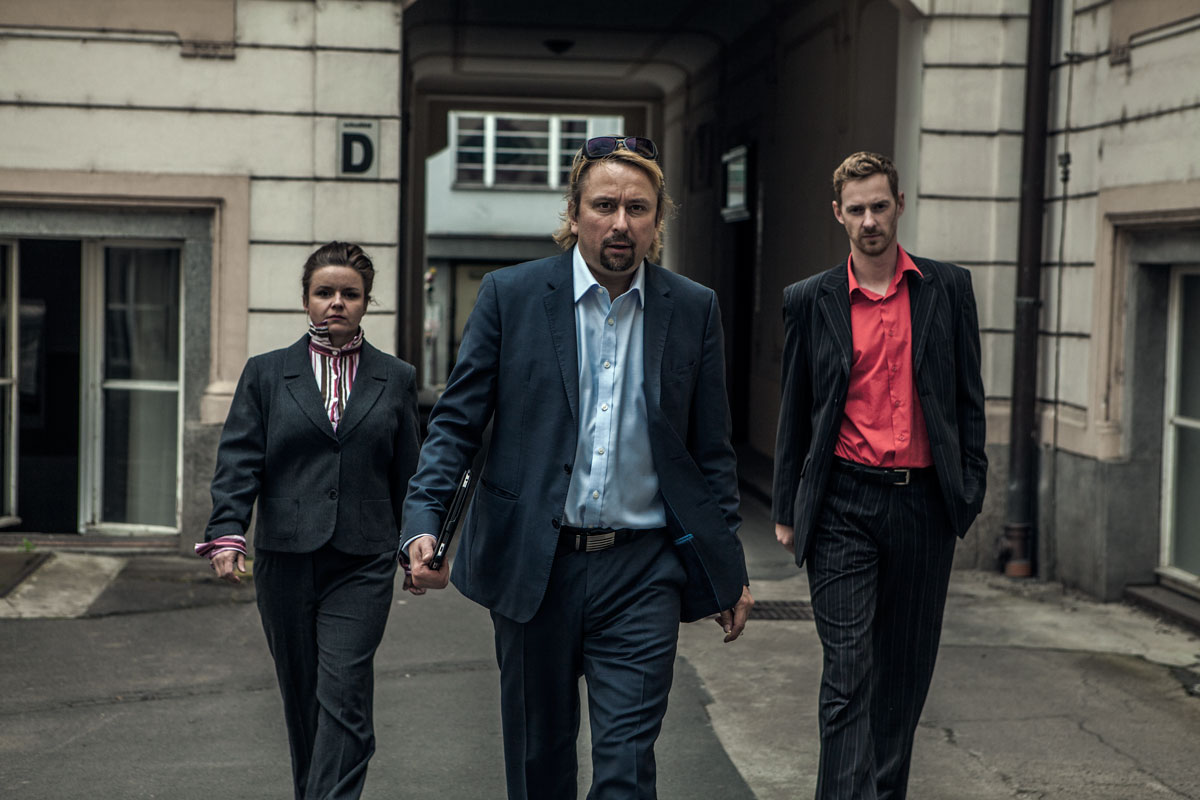 Pod heslem "neznámý lobbista, dobrý lobbista" se Tonda Blaník v dalším díle pustí se svým asistentem Žížalou (Michal Dalecký) a sekretářkou Lenkou (Halka Třešňáková) i do "kolegy" Romana Janouška.
Pilotní díl Kanceláře Blaník se objevil na konci minulého roku na serveru Youtube. Nyní tvůrci seriál společně se svým producentem Milanem Kuchynkou z filmové společnosti Negativ, jež má na kontě také jejich celovečerní snímky Protektor, Mistři nebo Polski film, dali do programu internetové televize Stream.cz. "Každou sobotu tak mohou diváci prostřednictvím internetové televize sledovat nový díl, v němž se budou objevovat další herci. Nedávno se po boku pana premiéra Sobotky objevila například herečka Sandra Nováková," říká producent Milan Kuchynka. Každou sobotu, přesně od páteční půlnoci, je zveřejněn nový díl. Ten aktuální s názvem Myslí to upřímně přinášejí tvůrci exkluzivně už nyní na www.stream.cz. Autory seriálové hudby jsou MIDI LIDI.
ZDROJ: TZ 4PRESS