Dne 27.04.2011 v klubu Lucerna Music Bar vystoupil jamajský kvartet T.O.K, který byl v ČR k vidění již po druhé. Poprvé svoje umění tato jamajská čtyřka předvedla na open air festivalu RealBeat Reggae Ethnic Session, kde se jim povedlo v rytmu svého energického dancehallu rozskákat snad každého návštěvníka festivalu.  Po tomto úspěchu se pořadatelé rozhodli je do ČR znovu pozvat.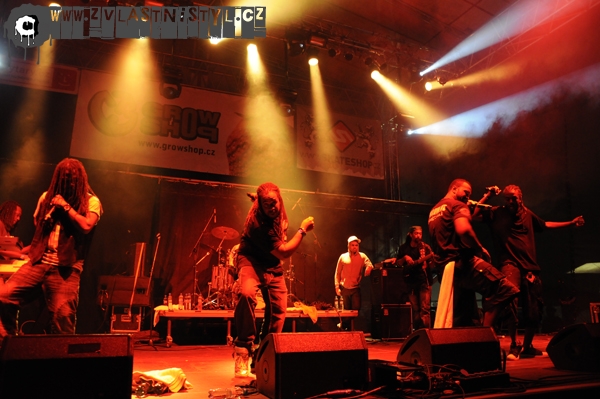 Hlavním rozdílem oproti minulému vystoupení bylo, že zatímco na RealBeat přijeli s kapelou 303 band, tak v Lucerně jim support dělal DJ. To však nijak neubíralo na atraktivitě ani kvalitě koncertu. Klub se otvíral v 20:00, a když jsem tak okolo 20:45 dorazil, Lucerna byla téměř prázdná. Mírně mě to překvapilo, i přes to, že devět hodin večer je celkem brzo, při podobných koncertech ve všední den často byla Lucerna v tento čas mnohem více zaplněná.
Akci zahajovala pražská DJská formace Roccaflex, DJs Mr Andel, Herby Boy a Scarface. Roccaflex hráli především dancehall, v jehož duchu se totiž nesl opravdu celý večer. Klub se v průběhu jejich hraní postupně zaplňoval, když pak na pódium dorazil Mad Coffin (alterego Mr. Cocomana) přesunulo se blíž k pódiu více lidí, přesto většina z nich pouze poslouchala. Mad Coffin zahrál několik svých dancehallových songů.
Mad Coffina a Roccaflex vystřídal DJ Babylon Rocker, při jeho hraní se publikum pomalu začínalo dostávat do varu a prostor okolo pódia se plnil. Po chvíli hraní se na pódiu objevila dancehall queen(nebo spíše princess ??:-)), ta po ukázce svého umění vyhlásila soutěž a vytáhla na pódium dvě dobrovolnice.  Jejich úkolem bylo co nejlépe napodobit její pohyby a v průběhu soutěže se obě dobrovolnice dobře naučili předváděný tanec. Po vyhlášení vítězkyně zahrál Babylon Rocker ještě několik songů, poté se ale na pódium již chystali T.O.K. V té době byla lucerna již obstojně naplněna a poté, co Admirál Kolíbal vyhlásil příchod T.O.K a vyzval všechny, aby přišli blíže k pódiu, jejich DJ pustil první písničku a za hlasitého povzbuzování nastoupili T.O.K na pódium. Ti pak rozjeli show ve velkém reggae-dancehallovém stylu a roztančili celou Lucernu. Lidé znali mnoho jejich hitů (např. Marihuana, Footprints) a ty největší zpívali spolu s nimi. Podpora, kterou massive vytvářel, by se dala směle srovnat s tou u dalších hvězd, které v Lucerně vystupovali v minulosti a Lucernu prakticky vyprodali. Český massive se členům T.O.K líbil natolik, že v průběhu koncertu několikrát zaznělo, jak jsme všichni skvělí, ale hlavně, že příští rok přijedou znovu, což určitě potěší nejednoho z nás. Po druhém přídavku rozdali mezi publikum jejich CDčka a podepsané plakáty. O afterparty se postaral opět DJ Babylon Rocker, ale vzhledem k tomu, že byl všední den a T.O.K skončili okolo půl jedné, více jak polovina lidí odešla.
Zážitek z koncertu T.O.K je něco úplně jiného, než máte možnost slyšet od jiných jamajských hvězd. Zpěvácký kvartet jamajčanů zpívající reggae a dancehall, je totiž velmi ojedinělý koncept. Na koncertu T.O.K máte tak možnost vidět velmi živou a energickou show. Slyšet tyto čtyři výborné a skvěle sehrané zpěváky v hitech, kde skvěle využívají jejich potenciál výbornými vokály a kombinací hlasů jednotlivých zpěváků. Myslím, že můžeme být všichni rádi, že si oblíbili český reggae massiv.