V úterý 14.8. se v Lucerna Music Baru (LMB) odehrála druhá část Pražkého Jamajského klubového léta. Po Turbulencovi dorazily do Prahy hned dvě reggae legendy – Cornell Campbell a Half Pint, podporu jim dělala německá kapela Far East Band, známá především z vystupování s Gentlemanem. Ti sice nepřijeli v plné formaci (ani to nebylo třeba) přijeli s bubeníkem, basistou, kytaristou a klávesista  zřejmě patřil do kapely jednoho ze zpěváků. Z neznámých důvodů také nedorazil avizovaný saxofonista z Taxi Gangu Slye a Robbieho.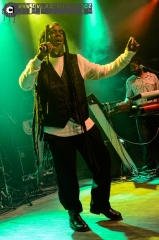 Mezi osmou a desátou hodinou se u DJského pultu staral o warmup
Red-I
, jejho set byl ale opravdu jen kulisou v pozadí pozvolna se plnícího Lucerna Music Baru. Kapela již měla nazvučeno a krátce před desátou večerní zahájili koncert sestřihem riddimů. Po několika minutách na pódium dorazila první hvězda večera –
Half Pint
.
Z počátku jeho vystoupení ještě LMB vypadala na podobné zklamání návštěvnosti jako tomu bylo u Turbulence, ale z vývoje večera nakonec vyplynulo, že Half Pint vlastně sloužil jako předskokan Cornellu Campbelovi a je pravda, že se mu to povedlo, ačkoli bych ho do takové role nezařadil. Jeho rané dancehallové, pohodově hopsavé písně postupně pomalu roztancovávaly LMB. V průběhu jeho koncertu se také prostor LMB více zaplňoval, zřejmě opozdilci :-).  Sic mladší z obou zpěváků, dready měl dlouhé skoro až k podlaze a svým lyrickým hlasem a písněmi jako Just Be Good To Me, Political Fiction, Victory, nebo Substitude Lover navodil skvělou atmosféru. Většinu písní na sebe navazoval a celkově tak příliš (na rozdíl od Cornella) ovací tak nesklidil – z toho mi také trochu vznikl onen dojem předskokana. Rozhodně to ale neznamenalo, že by jeho vystoupení bylo horší nebo méně hodnotné než to nadcházející, každý z těchto veteránů hraje jiný styl zatímco Cornell Capmbell je Marleyho generace a byl tak u kořenů, zatímco Half Pint se zasadil o počátky dancehallu. Half Pint dokonce ani nepřidával a hned po dohrání poslední písně přišel na pódium Lukáš Kolíbal ohlásit Cornella Campbela.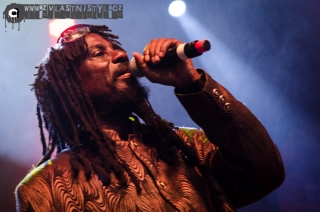 Před jeho příchodem kapela také zahrála sestřih jeho riddimů a u posledního se ozval Campbelův hlas ze zákulisí. Jeho pohyb po pódiu byl živější, chodil ze strany na stranu, podával si ruce s posluchači u pódia a neustále se usmíval.  Ve svém vystoupení střídal roots s modernějším zvukem a taky dubem. Jako například v 
100 Lb Of Collie
. Zazněly také
Mash You Down
,
Stars
,
Gorgon
, nebo
Sun
. Vše zazpíval naprosto perfektně a po každé písni zněly LMB mocné ovace a přídavků jsme se dočkali dokonce tří.
Po skončení se jako obvykle většina lidí vytratila domů a pro ty co zůstali, tu hrál Rizzla Sound. Sečteno a podtrženo další skvělý koncert nabitý pohodovou energií, zkrátka skvělý hudební zážitek. Celý fotoreport si můžete prohlédnout zde: https://zvlastnistyl.cz/fotoreport-hudba-praha-cornell-campbell-half-pint