Švédské indie-popové trio Peter Bjorn and John se po dlouhých osmi letech vrací do Česka. Vystoupí na hudebním festivalu Rock for Churchill, který proběhne 25. a 26. srpna ve Vroutku. Peter Bjorn and John doplňují již dříve oznámené Irie Révoltés, Ky-Mani Marley, Triggerfinger, Roni Size anebo DJ Zinc. Na Rock for Churchill se letos poprvé představí Red Bull Tour Bus, na jehož střeše vystoupí osmička domácích interpretů. Zvýhodněné vstupenky jsou v prodeji pouze do 30. června.
Peter Bjorn and John budete pravděpodobně znát díky jejich největší hitovce Young Folks, která v roce 2006 obletěla svět a která pro kapelu znamenala přelom v kariéře. Kromě toho, že se dostala do Top 20 anglického singlového žebříčku, se objevila v soundtracku sitcomu How I Met Your Mother, v pilotu seriálu Gossip Girl nebo ve videohrách FIFA 08 a MLB 2k13. Magazín NME dokonce zvolil Young Folks druhou nejlepší skladbou roku 2006. Kapela, která je pojmenovaná po křestních jménech členů (Peter Moren, Bjorn Yttling a John Eriksson), se na scéně pohybuje už od roku 1999. Má za sebou sedmi alb, přičemž to poslední Breakin' Point vyšlo v červnu minulého roku. Peter Bjorn and John mají s deskou ty nejvyšší ambice, má to být TA deska, která je vrátí na top pozice hudebních žebříčků.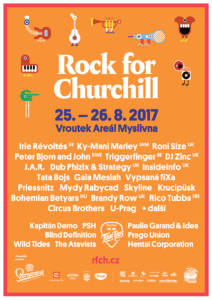 Kromě švédského tria se na hlavním pódiu představí němečtí revolucionáři Irie Révoltés, kteří letos na podzim ukončí svou bohatou kariéru, zástupce Marley klanu Ky-Mani Marley, belgičtí rockeři Triggerfinger anebo nadějná maďarská kapela Bohemian Betyars. Z domácích kapel vystoupí J.A.R., Tata Bojs, Priessnitz, Vypsaná fiXa anebo Gaia Mesiah, která vystoupí na Rock for Churchill exkluzivně jako na jediném festivalu v Česku.
Program letošní DJ stage je nejsilnější v dosavadní historii. V tanečním šapitó se představí král drum and bass Roni Size, DJ Zinc, Dub Phizix & Strategy, InsideInfo a další. Velkou novinkou letošního ročníku je třetí stage v podobě Red Bull Tour Busu. Na jeho střeše se návštěvníkům představí PSH, Prago Union, Paulie Garand & Idea, Kapitán Demo, Hentai Corporation a další.
18. ročník Rock for Churchill proběhne tradičně v přírodním areálu Myslivna ve Vroutku. Za loňský vydařený ročník se Rock for Churchill dočkal ocenění od festivalových návštěvníků – v anketě bestCOOLfest obhájil předloňské 3. místo. Poslední tři ročníky festivalu byly vyprodané.
Dvoudenní vstupenky jsou do 30. června v prodeji za 900 Kč (+ poplatky) na www.rfch.cz, GoOut.cz, pokladně Lucerna Music Baru (bez poplatků), na dobírku (bez poplatků) a v sítích Ticketportal a Ticketpro. Od 1. července se cena vstupenky zvedá o 100 Kč. Kompletní informace o předprodeji najdete na www.rfch.cz/vstupenky. Stanování je na Rock for Churchill zdarma.
Generálním partnerem Rock for Churchill je Staropramen.
ZVEŘEJNĚNÍ INTERPRETI ROCK FOR CHURCHILL 2017:
Irie Révoltés / DE, Ky-Mani Marley / JAM, Peter Bjorn and John / SWE, Triggerfinger / BE, Roni Size / UK, DJ Zinc / UK, Dub Phizix & Strategy / UK, InsideInfo / UK, Bohemian Betyars / HU, Brandy Row / UK, Rico Tubbs / FIN, J.A.R., Tata Bojs, Gaia Mesiah, Priessnitz, Vypsaná fiXa, Mydy Rabycad, Skyline, PSH, Prago Union, Paulie Garand & Idea, Kapitán Demo, Hentai Corporation, Krucipüsk, Circus Brothers, Wild Tides, U-Prag, The Atavists, The Drain, Vanua 2, Blind Definition
ZDROJ: TZ Rock for Churchill
Related Images: