Ve čtvrtek, 8. července proběhl v Pražském Lucerna Music Baru (LMB) další z řady top-a-di-top reggae večírků. Tentokrát se k nám přijel představit Jamaský objev roku 2012 a nyní snad nejskloňovanější jméno na Jamajce, Chronixx. Tento mladý, charismatický a velice talentovaný zpěvák vystřelil na vrchol raketovou rychlostí. Svým čistým a mírně nasládlým hlasem si získal celou Jamajku a rychle se proslavuje i za jejími hranicemi. A my měli možnost si jeho umění užít naživo.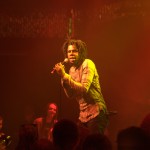 Brány klubu se otevíraly jako vždy ve 20:00, o warm-up k poslechu se staral Dj Major P. Klub se postupně naplňoval a okolo desáté večerní přišel na řadu druhý předskokan, tentokrát naživo. Před Chronixxem vystoupil Mr. Cocoman se svým akustickým vystoupením. Oproti jeho u nás dobře známým vystoupením se soundsystémem nebo kapelou Solid Vibez, byl akustický set velmi příjemnou změnou. Písničkářský Cocoman vystupuje jen s akustickou kytarou a svým hlasem a zní to skvěle. Zazněla spousta jeho aktuálních i starších zásadních hitů. Slyšet jsme tak mohli písně od To Přejde, S Vaničkou Dítě, Zavírám Krám, Tak už to bal až k jedné z nejstarších – Jedna Láska.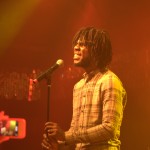 Poté se již na pódiu začala připravovat kapela Zinc Redemption Band, která po krátkém zahřívacím riddimu ohlásila příchod hlavní hvězdy a rozproudila krev všech přítomných. Když Chronixx dorazil na pódium, vypadal nenápadně, tak jako by se za velkou hvězdu vůbec nepovažoval. Začal velmi zlehka, tak aby nechal vyniknout umění hudebníků z kapely a pak postupně přidával své zpěvy. V podobném duchu bylo i pár dalších písní, všechny s mocnými úvody v podání kapely a pak s neuvěřitelným rozjezdem v podání Chronixxe. Těžko říci, zda to bylo záměrně, ale z celého koncertu jsem měl pocit, jako by se postupně osměloval a rozjížděl a více se pohyboval po pódiu. Až poté, co si asi v půlce koncertu sundal čepici a odkryl své dready, jakoby se úplně odvázal. Po celou dobu bylo ale také vidět, že svojí muziku umí opravdu hluboce prožívat a asi i díky tomu podává tak skvělé výkony. Zazněly hity jako Start a Fyah nebo They Dont Know. Některé písně uváděl delším proslovem a předával tak poselství, jako například u Tribal War, což celému koncertu dodalo dodatečnou spirituální hloubku. Celé jeho vystoupení uteklo jako voda a najednou se křičelo o přídavek. Po celém večeru výhradně v rytmech reggae, přešel Chronixx k dancehallu v jehož duchu pojal celý přídavek. Všichni se tedy mohli ještě na konci vyskákat a vstřebávat pozitivní energii, kterou Chronixx po celý koncert rozdával.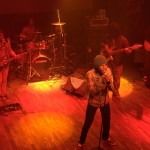 Po skončení koncertu pokračovala afterparty pod taktovkou Dje Tammana a lidé pomalu začali rozcházet do svých domovů. Celý koncert Chronixxe ve mně zanechal velice silný dojem, který ještě dlouhou dobu přetrvá. Také jsem pochopil, proč že se o něm mluví jako o nástupci Boba Marleyho – jeho hlas, prožívání, promyšlené texty a v neposlední řadě i "message" kterou předával, to zkrátka ukázali jasně. Jednou možná budeme moci říct, že legendární Chronixx vystoupil po necelých dvou letech svého působení i u nás v ČR.