Pondělí 21.10. bylo svátkem pro všechny fanoušky roots reggae music, do Pražského Lucerna Music Baru (LMB) totiž dorazili veteráni tohoto žánru a nejúspěšnější evropská reggae kapela z Velké Británie – Steel Pulse.  Tato kapela původem Birminghamu, hrající již od roku 1975, byla také byla jedinou Britskou a první mimo Jamajku, která vyhrála cenu Grammy za nejlepší reggae album roku.  Za sebou mají bohatou diskografii, čítající 11 studiových alb, pro svůj Pražský koncert tedy rozhodně měli z čeho vybírat.

O podporu pro Steel Pulse  se starali Peeni Walli, kteří hráli jak před, tak i po samotném koncertu. Když jsem krátce před půl desátou dorazil do klubu, zaplněnost mi téměř vyrazila dech. Po zkušenostech z jiných roots (a) reggae koncertů, kdy návštěvnost někdy přinejlepším pokulhávala, bylo tentokrát plno, dorazil opravdu mocny masiv. Věkově bylo obsazení velmi rozmanité, vzhledem k dlouhé době působení kapely to ale bylo pochopitelné a také potěšující, koncert si zkrátka přišly užít všechny věkové generace. Kapela začala s menším zpožděním oproti programu, což stejně nikomu nevadilo a bohatě to vynahradili svým dlouhým vystoupením.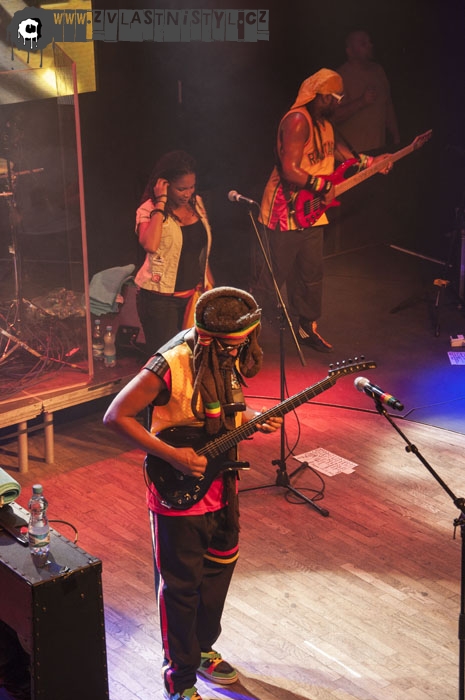 Když Steel Pulse nastoupili na pódium, byli bouřlivě přivítáni a bez dalšího protahování začali hrát.  Zahájili písní Blues Dance Raid následovanou známou Rally Round a všem bylo hned jasné, že to je to proč sem přišli. Kapela hrála velice energicky a letité zkušenosti byly na jejich výkonu více než dobře znát. Každý z členů si vystřihl vlastní krásné sólo v různých písních, navíc kromě hlavního zpěváka Davida Hindse zpívají i oba klávesisté a samozřejmě vokalistka. Tohle vše mají  zamícháno, uvařeno a naservírováno do živého, zábavného a velmi atmosférického vystoupení, při kterém nedělá "showmana" jen hlavní zpěvák ale také celý zbytek kapely. Také všichni členové s mobilními hudebními nástroji se po půlkruhovém pódiu LMB různě střídali na svých místech, zkrátka nebylo snad ani možné se na koncertu nudit. Z dalších písní jsme mohli slyšet například Roller Skates, Chant A Psalm nebo Stepping Out, při které celý LMB zpíval společně s kapelou. Po každé písni se jim dostávalo bouřlivé odezvy a bylo vidět, sympatie jsou oboustrané. Po poslední písni přídavku ukázali své nadšení, otevřenost a vděčnost tím, že obcházeli pódium a podávali si ruce s fanoušky v prvních řadách a i poté co odešli z pódia, se s fanoušky fotili a podepisovali. Za toto všechno si kapela zaslouží velký respekt, že i po 37 letech k vystupování přistupují s takovým nadšením.
O afterparty se opět staral Pražský soundsystém Peeni Walli a LMB se začala postupně vyprazňovat a ve mě zůstal ten krásný, nepopsatelný pocit, který ve mě vystoupení Steel Pulse zanechalo. Na videa z koncertu se můžete těšit brzy.
FOTOREPORT: