Mám pro vás potěšující informaci. Ska-P, Ska-P, Ska-P…ohraná to písnička a zbožné přání fanoušků Mighty Sounds objevující se v guestbooku » častěji než fotky Slávka Boury již od samotných počátků Mighty Sounds. Organizátoři si řekli, proč jednou neudělat nějakou kapelu hlavně pro fanoušky a vyslyšet jejich touhy, a pozvali Ska-P.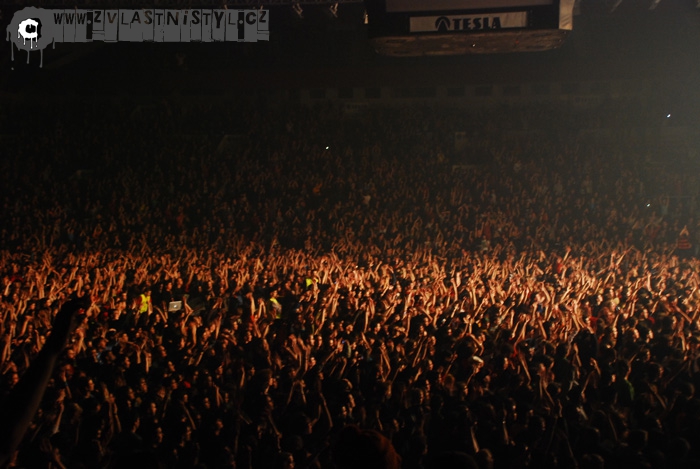 Ne, že by to v České republice Ska-P posledních pár let zanedbávali, ale přeci jen při vzpomínkách na tisíce lidí skákajících od první do poslední řady skoro běhá mráz po zádech a koneckonců to celé má i praktické hledisko – pokud by se přeci jen v areálu udělalo nějaké to bahno, při vystoupení Ska-P by jej radostná kopyta během pár písní změnila v betonově tvrdou substanci. Ne, že by organizátoři o Ska-P nikdy dříve neuvažovali. Prostě se to jen nikdy nepovedlo a nyní konečně můžeme všichni zajásat, protože ať se to někomu líbí nebo ne, což je tak asi vše co s tím může dělat 😀 , Ska-P jsou fenoménem, co dokáže s davem kouzla jako žádná jiná kapela. Sami jsme se tomu stali svědkem 10.2.2009 v tesla aréně »
Je jasné, že zatímco hromady lidí budou z této zprávy již teď skákat blahem, tak jako mi v redakci po raním přečtení e-mailu najdou se tací, kteří budou hlásat, že Ska-P Mighty Sounds akorát pokazí, protože jsou moc velcí, protože to má rád každý, protože to natáhne spoustu lidí, kteří by normálně nejeli, protože jsou politicky vyhranění. Ska-P a Mighty Sounds je podle organizátorů podobné spojení jako Tommy Lee a Pamela Anderson – bouřlivá, špinavá láska a divoké orgie, které si může užít i veřejnost. Akorát pak bude třeba hodně dlouho odpočívat. Pokud má někdo problémy s politikou, tak věřte, že nějaké to levičáctví patří k jihoamerickým a jihoevropským kapelám jako bradavice a řidítka k Lemmymu. Oni to mají vlastně kluci docela srovnaný. V každém případě, pokud jste nebyli na koncertě Pantery, tak již asi větší mazec nikdy nezažijete.